After being nominated and shortlisted for the LTG Awards 2017 (Luxury Travel Guide Awards), a few days ago we received an email that made us jump and high-five everyone in our office: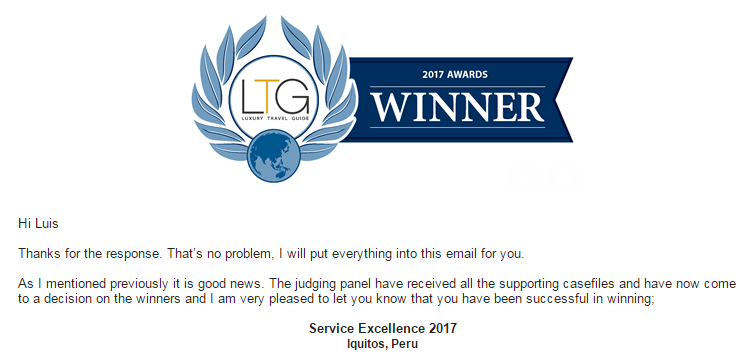 Yes! We won.
That LTG Awards recognizes our work is great because it means that all the effort we put into caring for our visitors is being reflected not only in raving excellent reviews but by being recognized by International standards in Service Excellence.
In their own words:
All winners of the Holiday & Tour Specialist awards are subject to the same rigorous assessment criteria, carried out by our experienced in-house professionals as well as several celebrity guest judges. This ensures that only the most deserving teams, businesses, and individuals walk away with one of these prestigious accolades.

All Luxury Travel Guide Award programs represent the pinnacle of achievement, championing the best in their respective fields, therefore to come out as a clear winner is an achievement to be proud of.
Indeed we are very proud of this achievement and it encourages us to continue delivering a quality service with a smiling face to all our visitors.
Thanks for tuning in, the Sloth will now play the celebration song.