Hello wild people!
It's been a long time without an update, with the latest being on 2019, and a lot of things have happened ever since!
First things first, of course we were hit by the pandemic and that was totally uncharted territory for us in how to sustain a business without many customers (due to lockdowns and fear of travel, which happily seem to be a thing of the past right now).
We persevered, made a commitment to refund more than 40 bookings by people who saw their 2020 travel plans cancelled due to the global circunstances, and went through with our promise. That's something we are very proud until this day.
Also, we wanna thank everyone who supported us one way or another during challenging times. Every one of your encouraging messages made a difference for us.
Moving forward, with the world slowly opening up we started to see increasing demand for exploring and touring the Amazon again, and that made us tremendously happy because it showed that our conviction to continue pursuing our dreams was well worth it.
So, what we've been up lately? Mostly we've been head-down hard-at-work aiming to deliver the best possible experience and the highest quality of services/care for those that choose us as their partners to explore the Amazon jungle.
And how is this being reflected in the current state of Amazon Experience? Let's explore it in the next section!
News and updates
Amazon Experience positive reviews and happy customers
We wanted to start with this one because it really makes us feel super happy about what we do, while also giving us useful information about the areas of development we need to focus on.
On Tripadvisor we crossed the 300+ reviews mark with the majority of those being 5-star reviews.

And on Google reviews we've accumulated more than 120 reviews so far, with an average score of 4.6 (out of 5).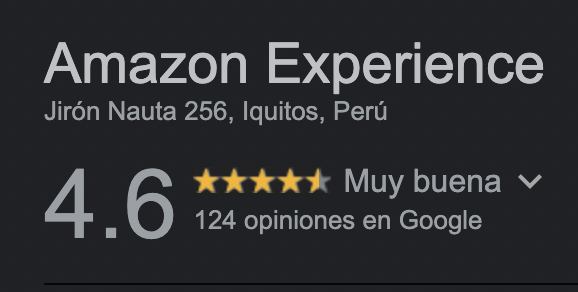 We feel very grateful for the opportunity to keep delivering quality experiences for those who decide to explore the Amazon with us, and we also wanna publicly thanks everyone who after taking a tour with us, has taken the time to write about your trip with the Amazon Experience crew.
You rock people, you rock!
Amazon Experience gets Tripadvisor 2022 Traveller's Choice Award
When we received the email from Tripadvisor stating that Amazon Experience just won the Traveller's Choice Award for 2022 we were ecstatic!
This is the third time we receive a Tripadvisor award and we are ready to go for more!
Thanks to everyone who chose us!
We are getting new boats!
At Amazon Experience we are always looking for ways to improve our service, so this is why we've already started to slowly transition from traditional wooden boats into aluminium boats.
So far, we've replaced 2 out of 6 boats, but the plan is to continue this trend as aluminum boats last longer, so there's no need to obtain local wood for making or repairing them.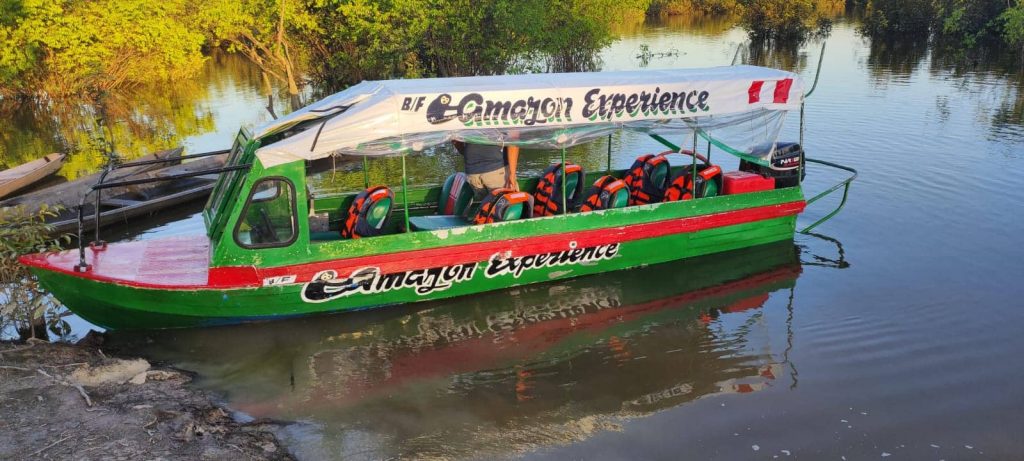 But that's not the only update regarding boats. We are not only getting better boats but also faster boats!
We've managed to install 40 HP motors (from 15 HP) in half of our boats for faster commuting between the stops in the itineraries of the different tours. Our aim in the short to mid-term is to have all of our boats with 40 HP motors and we are confident we'll be able to do it.
Permit to conduct eco-tourism activities in Pacaya Samiria has been renovated until 2026
As the headline indicates, we've renovated our permit with the SERNANP (Servicio Nacional de Areas Naturales Protegidas) until 2026 so we can conduct eco-tourism activities inside Pacaya Samiria National Reserve.
Obtaining a permit is hugely important because of two main reasons:
It helps the SERNANP monitor the activities inside the Pacaya Samiria National Reserve so their ecosystem has the less impact possible in regards to tourism activities
It helps visitors know they are visiting the real Pacaya Samiria National Reserve (and part of their money is going into the conservation of this protected area), as until this day there are still shady tour companies who offer Pacaya Samiria tours in their website only to take unsuspecting people to other parts of the jungle. Please don't fall for these!
If you are thinking of visiting Pacaya Samiria with an authorized tour operator (that would be us!) we recommend you check these tour options and also read this guide with lots of information about Pacaya Samiria (and what makes it so special!)
Cryptocurrencies accepted as payment now
We are moving ahead with the times, so now besides accepting payments with PayPal, credit cards and cash (USD, EUR, or PEN) we are ready to accept payments in:
Bitcoin
Ethereum
USDC (Stablecoin on Ethereum network)
In fact, just a few weeks ago we received payment for a tour in USDC and the process was very smooth, lasting only a few minutes. The future is bright!
If you would like to purchase a tour using cryptocurrencies please contact us at booking@amazonexperience.net to coordinate it.
Social Impact v2.0
When we started Amazon Experience our aim was not only to deliver the best quality of tours and experience for visitors, but also to potentiate the local economy and its communities.
Pre-pandemic we conducted lots of social activities, from Chocolatadas (local Christmas parties for kids and adults) in far-away towns to donating soccer uniforms and equipment to a local club.
And our idea is to get back into these kind of social events once again, now that global travel seems to be on the uprise.
Price adjustements
We've always been transparent with our customers and visitors, so this won't be the exception: Our prices are going up.
We've maintained our prices without changes for 5 years but as our operational costs have gone up significantly during these last years, in part due to rampant inflation affecting goods and services that are essential for us to deliver you a quality experience, we took the decision to adjust accordingly.
The costs for the entrances to the Pacaya Samiria National Reserve, imposed by the SERNANP, has also gone up during the last years, so that was a factor we also needed to take into consideration.
So, to continue growing and giving you the best experience (in regards to food, accommodation, equipment, transport, and service) we need to make this change.
We want to give you, and everyone who visits Amazon Experience, the chance to book tours at our "old" prices before these are officially changed. This is why we are going to maintain our old prices until the end of May (May 30th included, to be specific).
Another thing to mention is that we'll maintain discounts for big groups ( 5% off for groups of 4 or more people booking together) or those who choose a vegetarian/vegan menu (also 5%).
The 5% discount for big groups is automatically applied when booking through our website. To obtain the 5% discount for vegetarian/vegan food choices please contact us at booking@amazonexperience.net to apply this discount to your booking.
Final Words
We are very (very!) grateful to be able to continue working in what we love and happy to put the pandemic years behind us.
We are also full of excitement to continue developing this business into a force of positive impact for the Amazon, its people, and communities.
Thanks a ton for your support and for letting us do what we love the most… sharing the beauty of the Amazon jungle with the world!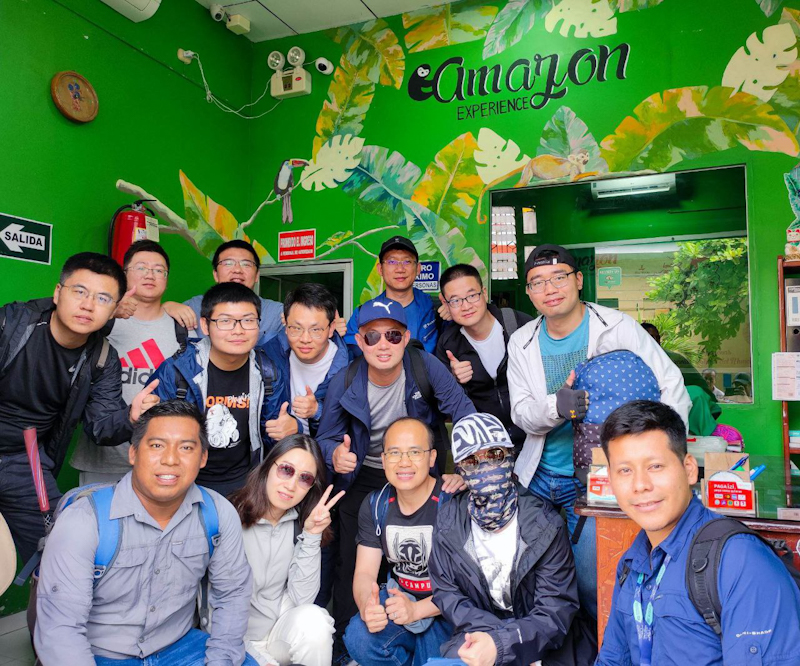 Gracias!