Are you wondering about cool things to do in Iquitos? We got you covered!
Iquitos is also called the capital of the Peruvian Amazon or "La Isla Bonita" (the pretty island, because it's surrounded by rivers) and is the largest city in the world that cannot be reached by land. 
You now might be wondering, how to get to Iquitos?
You either come here by plane (around 1 hour and 45 minutes from Lima), with flights also from Tarapoto, Pucallpa, and Cusco or by boat, from the Brazilian or Colombian border (against the Amazon river current), or from Yurimaguas or Pucallpa (following the river current).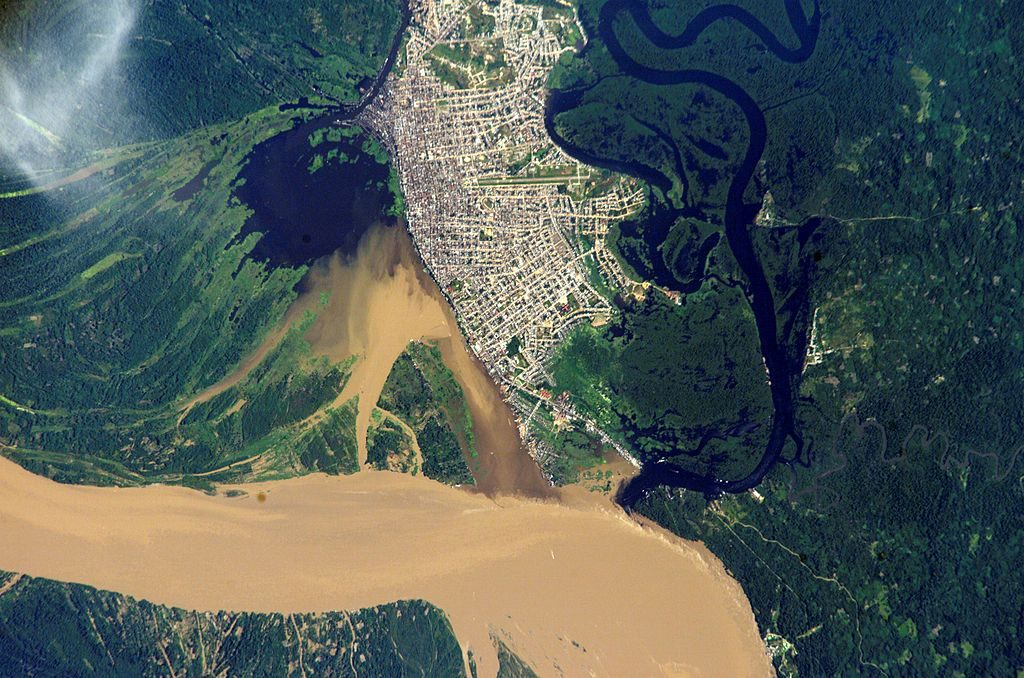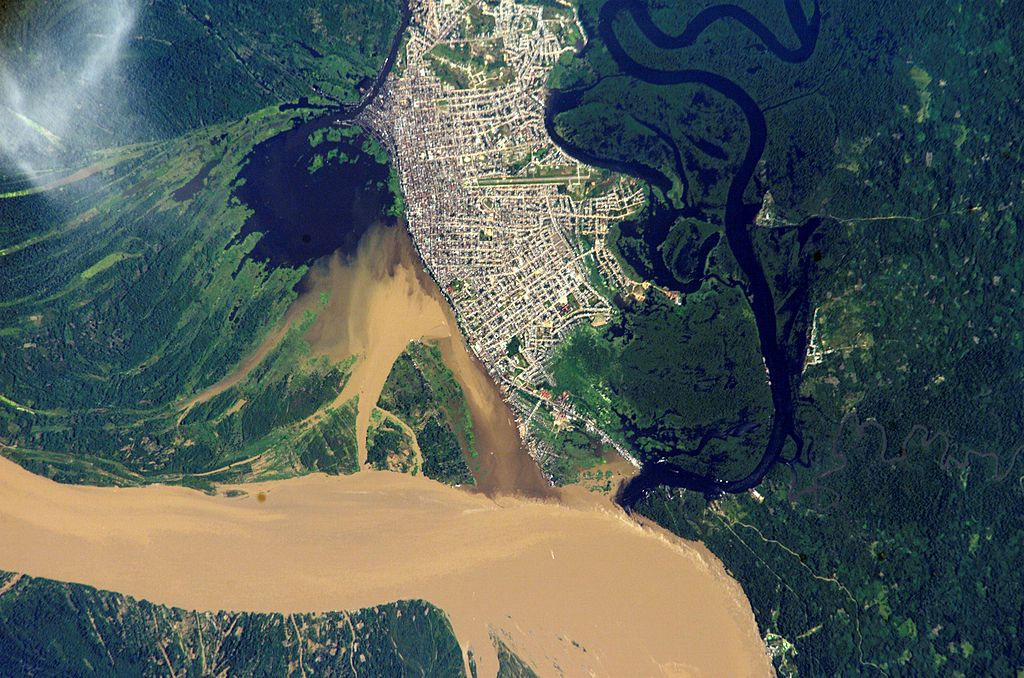 However you arrive, you will for sure be surprised by this bustling Amazon city.
There are plenty of things to do in Iquitos, for every age range, interests, and budget. You can explore the city and its history and culture, try delicious food and also experience the Amazon jungle, its landscapes, and wildlife.
Check our suggestions about what to do in Iquitos, you will find options to enjoy your visit no matter the length of your stay, from a few days to a few weeks.
We have included a "Cost" segment at the end of each suggestion so you can decide what activities fit your budget.
You can also use this custom Google Maps we have created, detailing the location of these suggested Iquitos spots, for easier orientation in the city.
Let's get started, shall we?
Top things to do in Iquitos Perú
See Eiffel's Iron House
This unique building was designed by Gustav Eiffel (famous for the Eiffel tower), built at Paris (some say Hamburg) in the late nineteenth century (around 1890s), and shipped by pieces through the Atlantic ocean until it arrived in Iquitos.
That's quite a journey, right?
It is located on the main square (Plaza de Armas) with a look that dissonates from its environment. It's walls, balcony, and ceiling are covered with sheets of iron giving the building its strange look.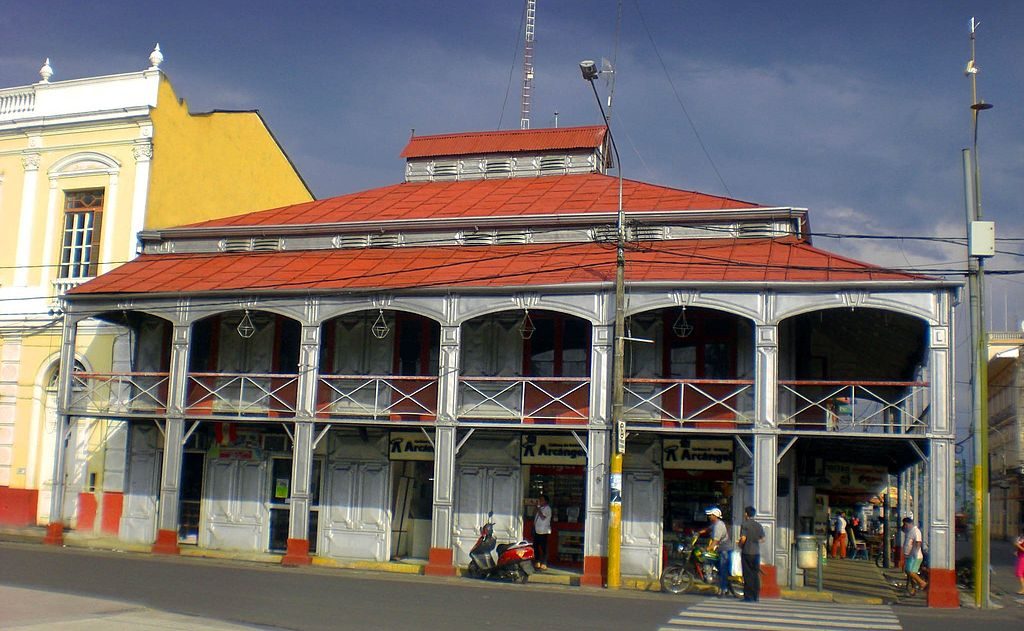 This house is a testament of how crazy the rubber times were in Iquitos, where the rubber barons had so much power (and money) that they could do this kind of seemingly impossible things, like bringing a whole prefabricated iron house from the other side of the world just for the sake of it.
It is said to be the first prefabricated house in America and its the only survivor of three of the same houses imported here.
Right now, it lives humbler times, with a pharmacy on the first floor and a restaurant on the second floor.
Cost: Free
See the Iglesia Matriz, Iquitos main church
While you are hanging around Plaza de Armas (Iquitos main square) you can also take a look at the locally called "Iglesia Matriz" whose official name is St. John the Baptist Cathedral.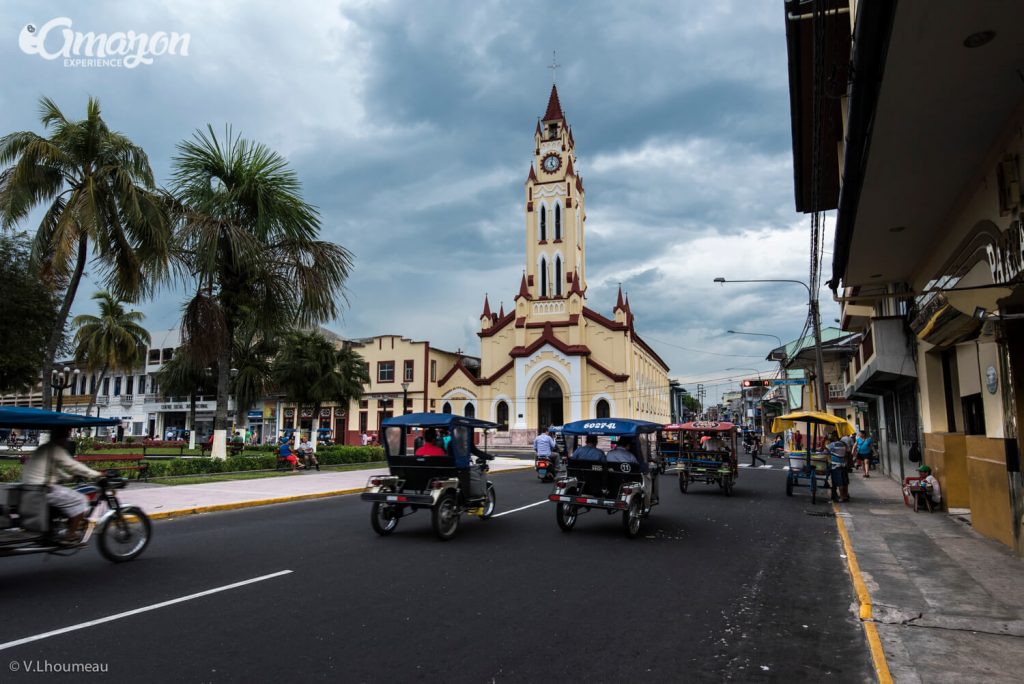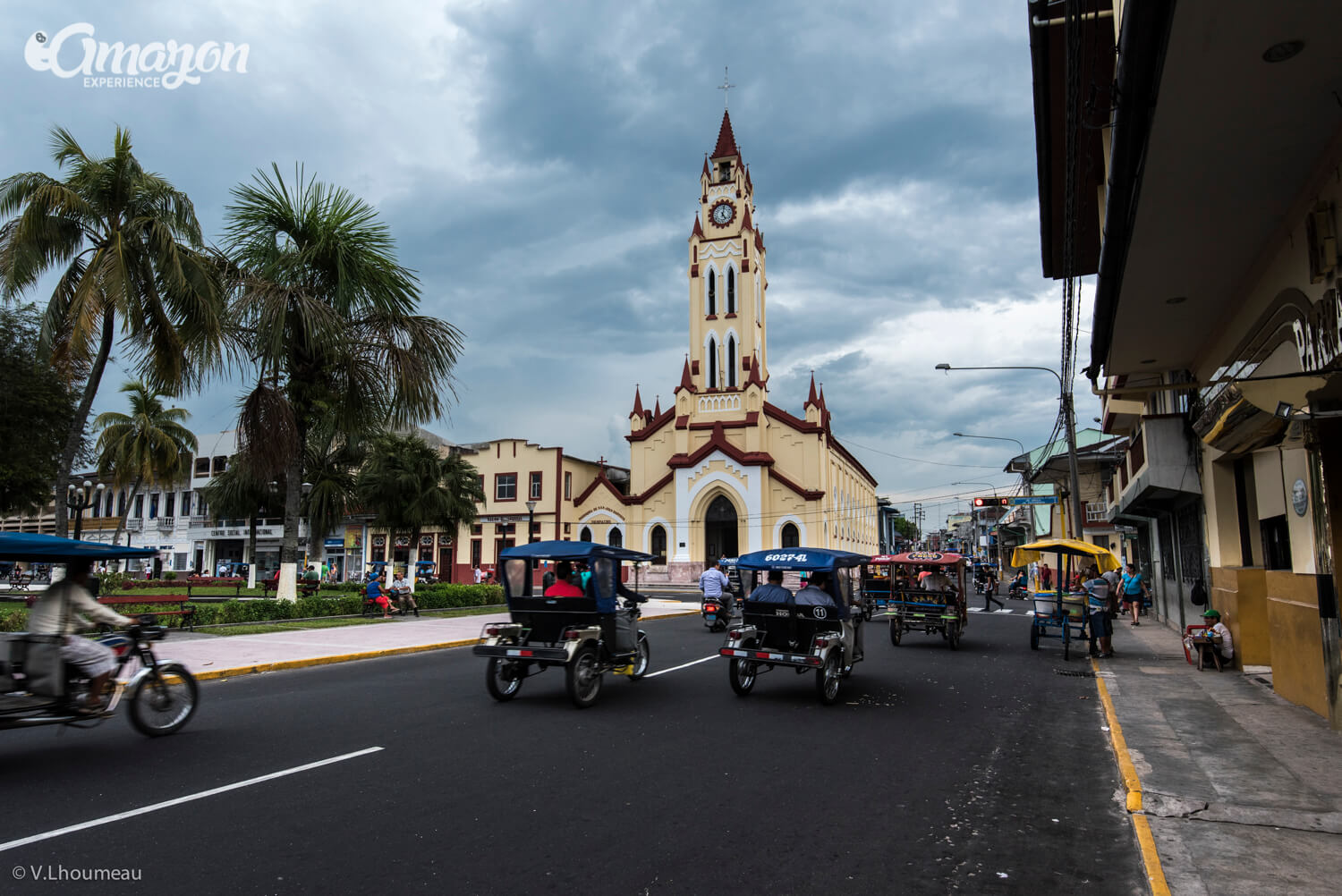 This neo-gothic church was constructed in the early 1900s, finishing the tower in 1924. The clock that sits on top of the tower was brought from Switzerland.
It was declared Cultural Heritage of the Nation of Perú in 1996 and is considered an Iquitos urban icon.
The cathedral is usually open and it's free to enter if you want to admire the religious art inside.
Cost: Free
Visit the real Monkey Island
Would you love playing and sharing with monkeys and at the same time support a center devoted to their rescue, rehabilitation and release back into the wild?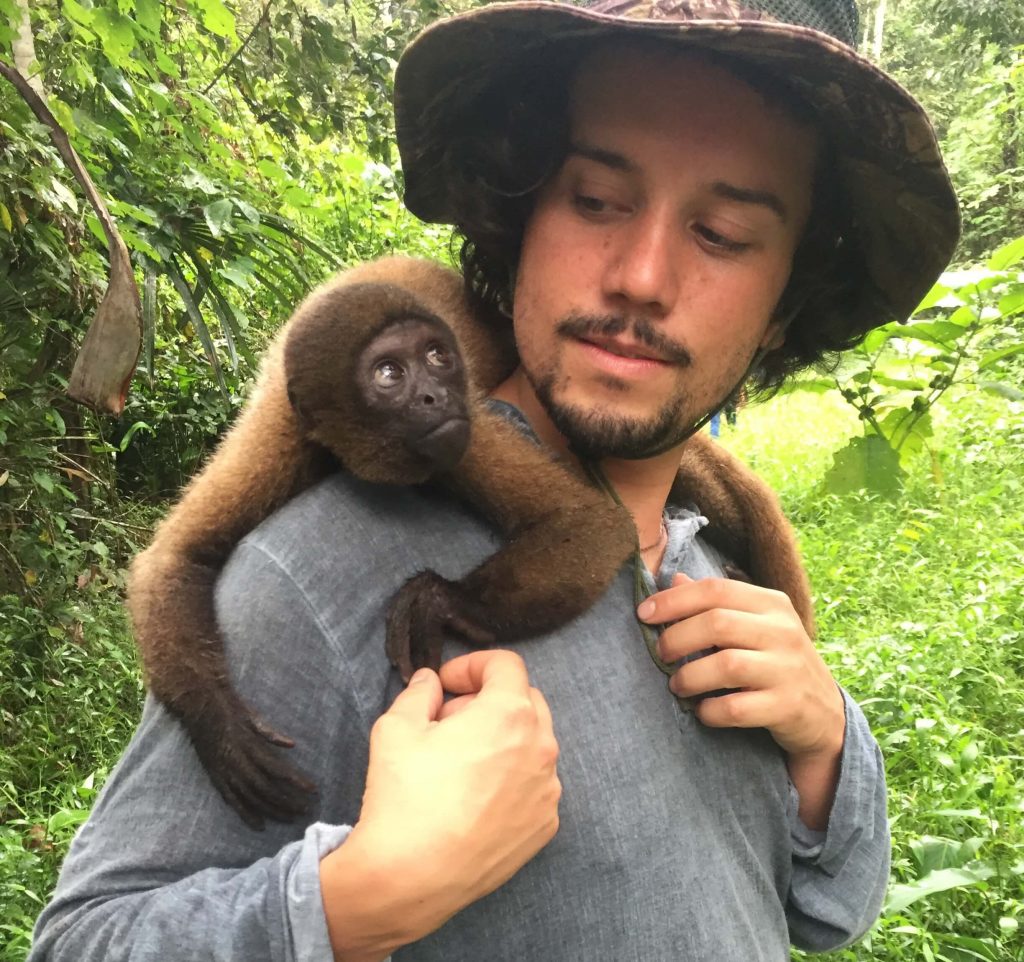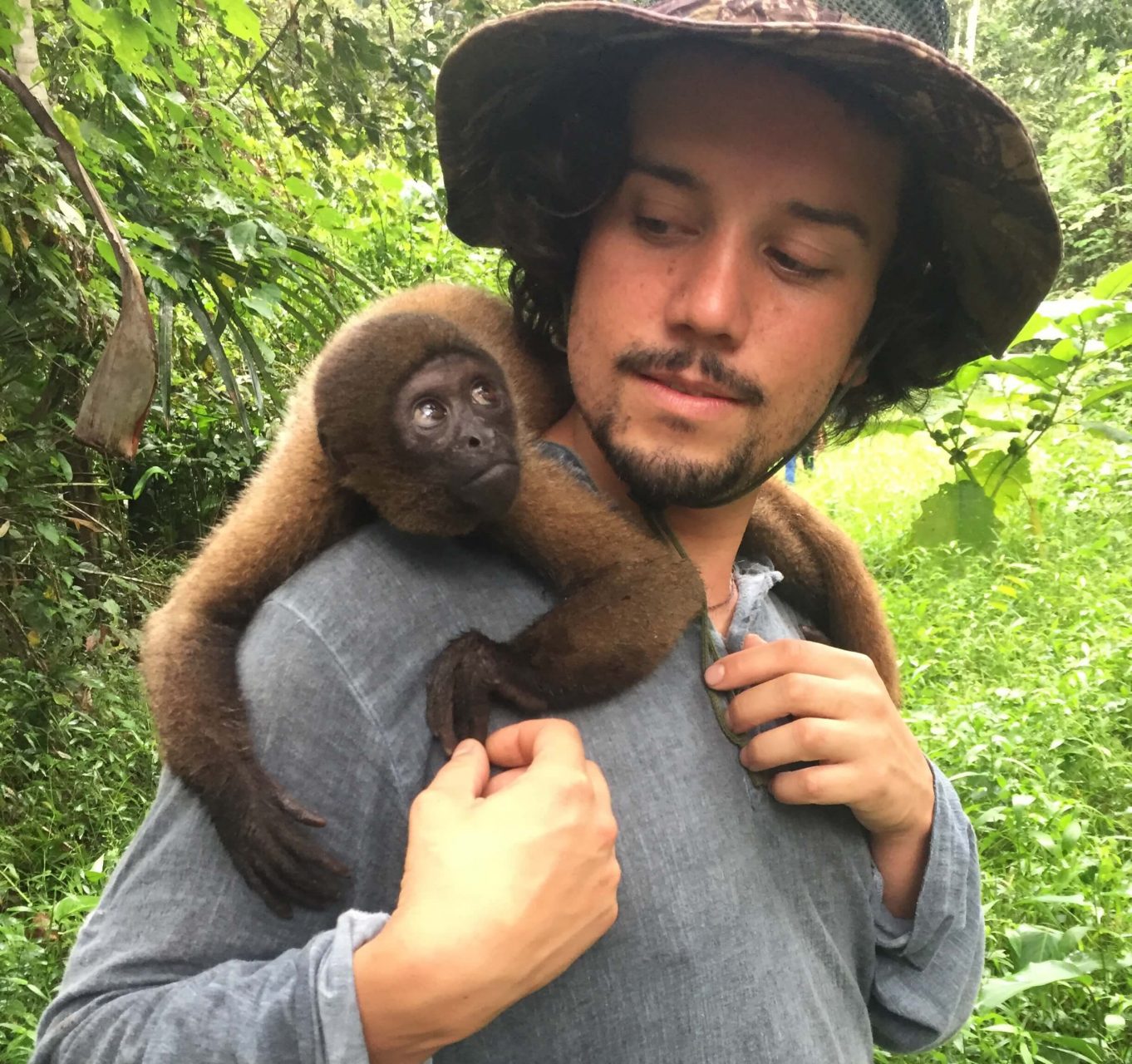 Close to Iquitos, downstream following the Amazon river, you can find "La Isla de Los Monos" or Monkey Island. 
This place was started by Gilberto, and in 1997 the Peruvian government donated the 450 hectares of land (the whole island) for this to be a rescue center. The first eight years were dedicated to planting over 70 different species of trees and fruits, building the facilities and preparing everything.
After years of replanting trees, clearing hiking trails, and building the center, the first monkeys were introduced to the island. All were victims of the illegal pet trade in Perú, rescued by the police, vets and concerned citizens.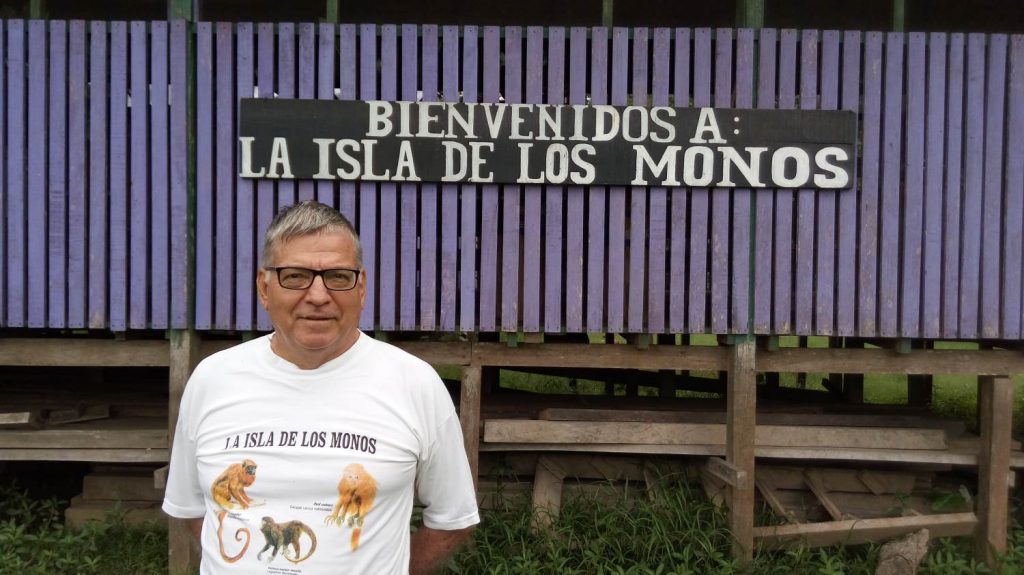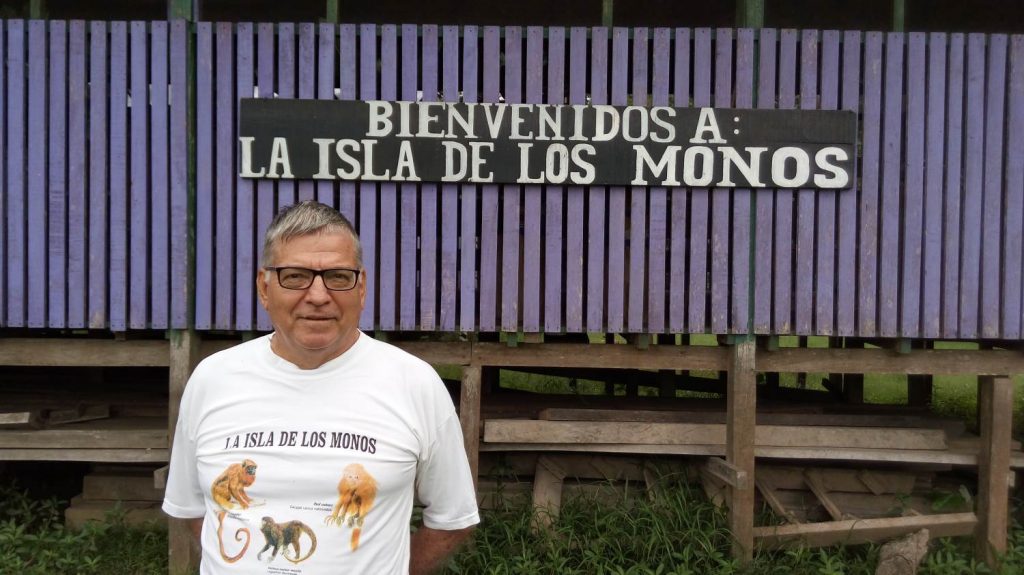 Monkey Island took a commitment to rescue, rehabilitate and release monkeys. The island is cage-free with only a few monkeys temporarily in cages for quarantine and safety.
Fast forward to today and the Monkey Island has released over 200 monkeys back into their natural habitat.
It is very important to note that there is only one original rescue center called like this, and many copycats using the same name to lure tourists.
How can you recognize the original one? 
Well, first of all before going, do your research. You can choose to visit this place independently coordinating directly with them or as part of a tourism activity, like an organized Amazon tour that includes other activities and staying in a lodge.
Once you are in the Monkey Island you will notice their logo inside the house where they welcome you. If you are in doubt that you are in the right place you can always ask any representative of the Island or your tour guide.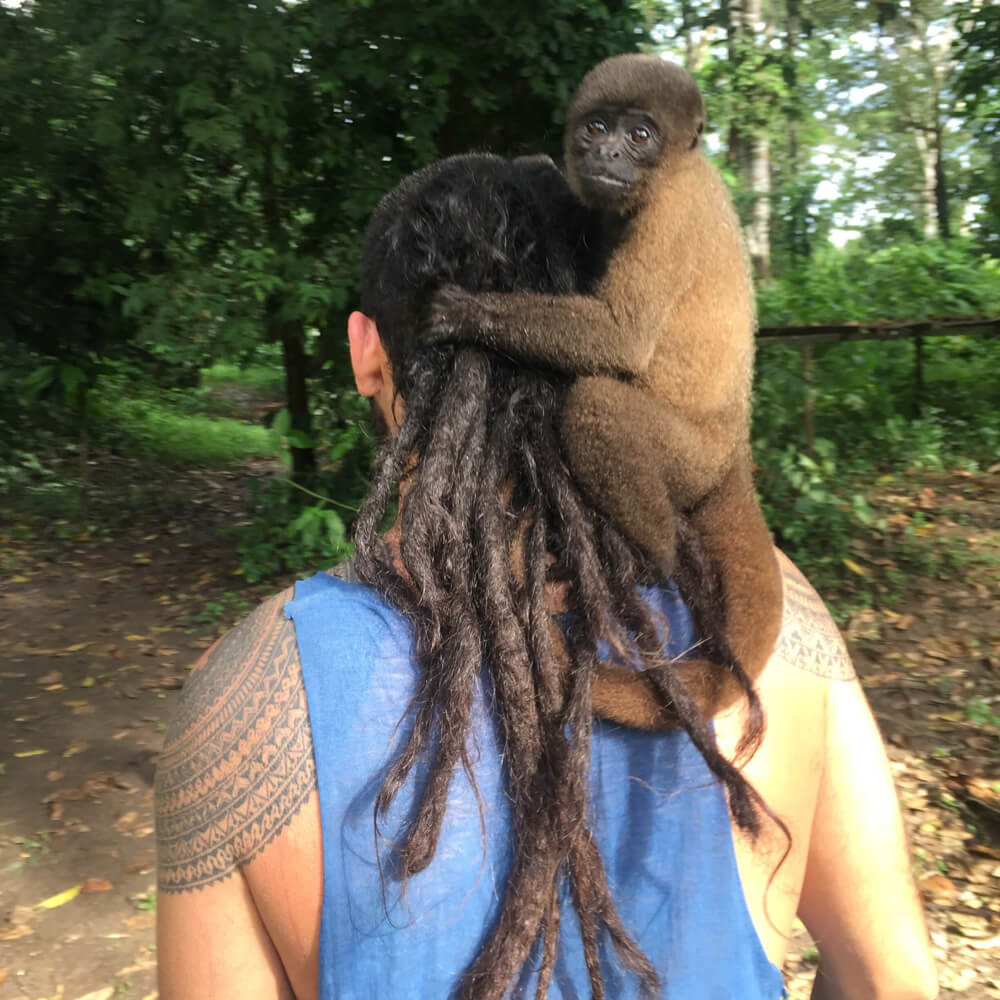 We are very happy to be working with this organization, being able to connect Iquitos visitors to this experience so they come back home more aware of issues like pet trade or illegal hunting and more conscious about our similarities with the monkeys and the importance of their conservation.
Cost: $ – $$
Belen Market and Pasaje Paquito
Have you heard about the Belen market in Iquitos before?
If you are not used to outdoors markets in South America this place will definitely leave a mark on you. 
Located eleven blocks from the main square (Plaza de Armas), in the Southern part of Iquitos, lies this unique, chaotic and buzzing place that will, for sure, overload your senses.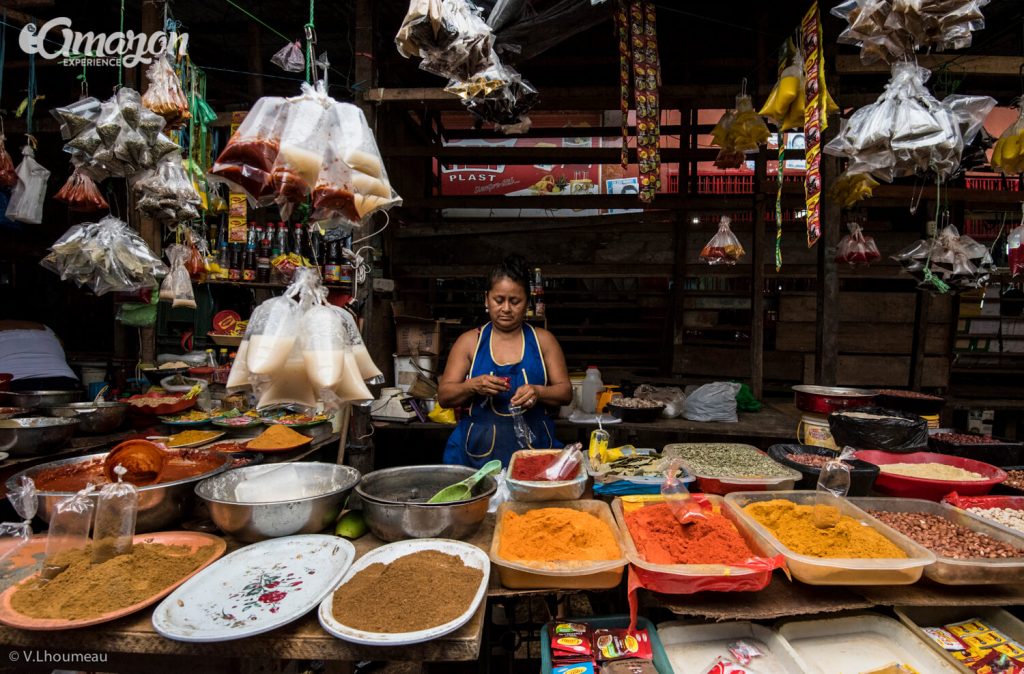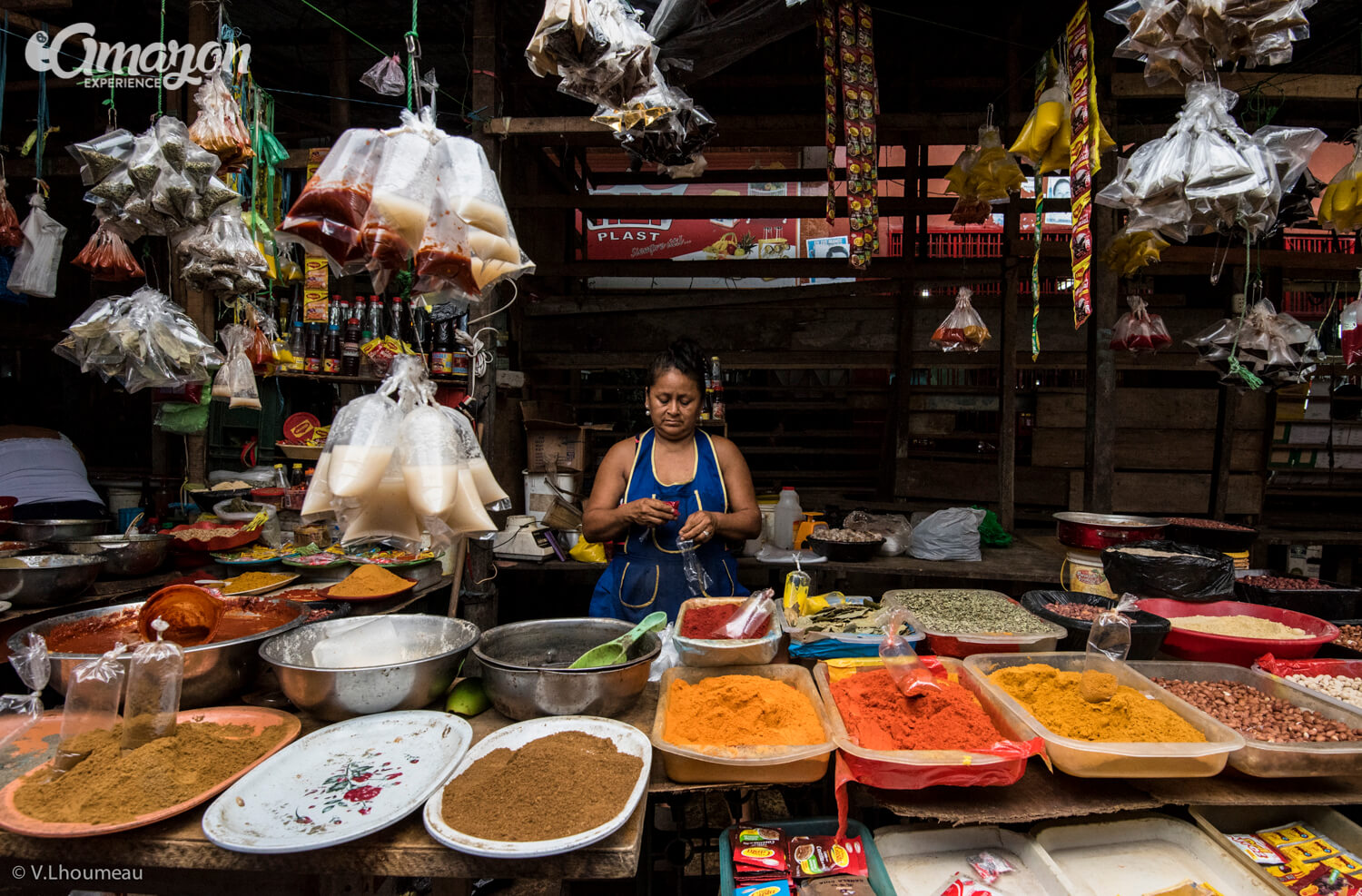 Belen market is the uphill part of the Belen settlement, spreading around 20 blocks, and there they sell about everything. From fresh vegetables and fruits to local food, shoes, batteries, aphrodisiac drinks and pretty much anything you can imagine.
The low part of Belen is where the neighborhood and a lively commercial zone are located and is the part that gets flooded when the river grows, that's why it is also known as Belen floating village or market.
It's important to note that in this market you will also find some endangered animals, like turtles, caimans or even monkeys, being sold by part or by kilograms. This part of Iquitos reality breaks our heart and we highly encourage you to not buy anything related to endangered species.
If you are going to explore Belen market then there is an alley that you can't miss: "Pasaje Paquito", where you will be immersed in the world of traditional Amazon medicine.
In Pasaje Paquito, you can find many different traditional plant medicines used for many different conditions like diabetes, circulation problems, cancer, baldness or more esoteric things like loneliness, a "broken heart" or bringing back home your runaway wife (or husband).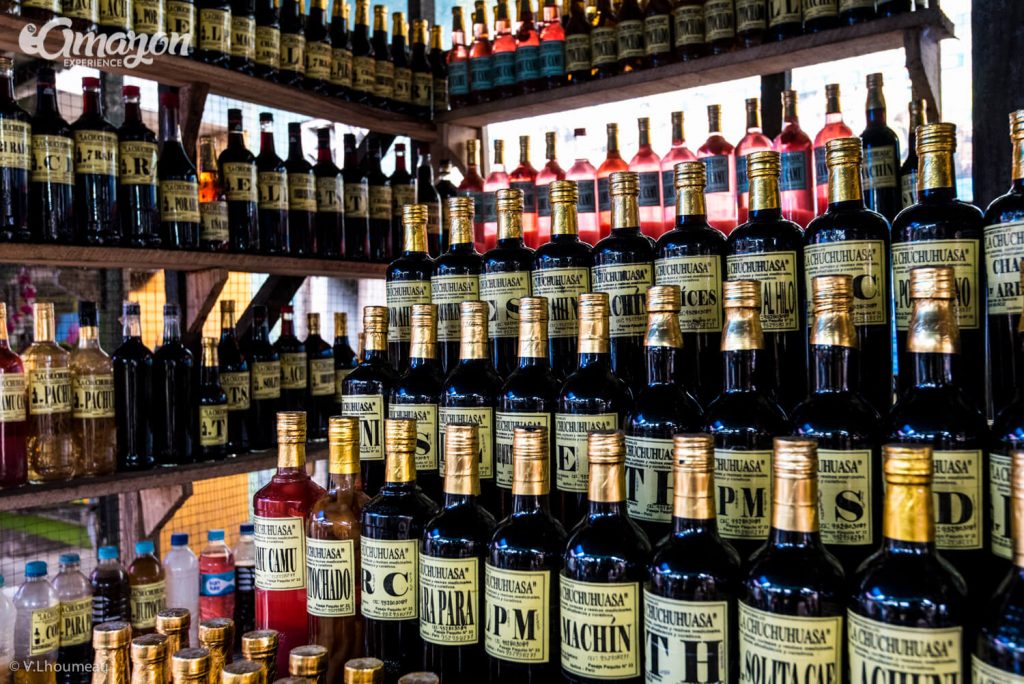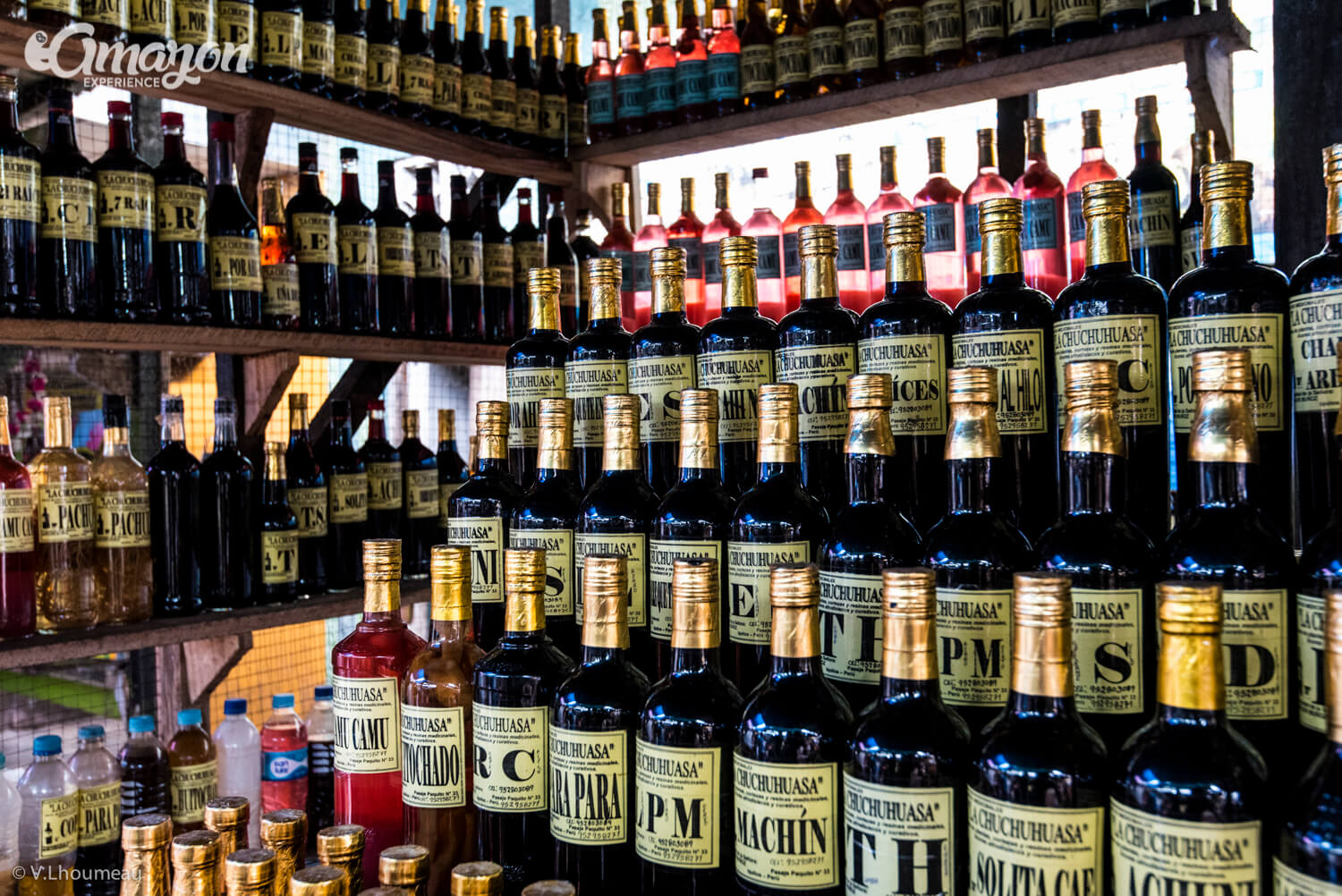 One of the main concerns from people visiting Iquitos is: Is the Belen market safe?
The answer might vary depending on who you ask. We say the uphill market part is okay if you choose to go in the morning, don't bring flashy equipment (big cameras or fancy cell phones), leave all your important stuff (passport, money, credit cards) in your accommodation, use common sense, carry everything in front of you and be attentive to pickpockets.
If you follow these recommendations and stick to the upper zone (where the market is) it's probable you won't have an issue when visiting the Belen market.
Open daily starting around 5:00 AM.
Cost: Free
Amazon indigenous tribes
If you are into cultural tourism and want to know a little more about the lifestyle of some of the  Amazon indigenous tribes you can do that in Iquitos.
When visiting Iquitos there are two main different indigenous groups that you can meet:
The Bora people and the Yagua people.
Boras communities extend between the Putumayo and Napo river and are comprised of about 2000 people. They speak their own language, Bora, derived from the Witotan language and have an animist view of the world.
The rubber boom had a devastating effect on the Bora people during the 20th century, diminishing their population by thousands.
The Yagua people is said to be one of the oldest tribes in the Amazon jungle. They live in the Peruvian and Colombian Amazon basin and are comprised of about 4000-6000 people (depending which source you cite).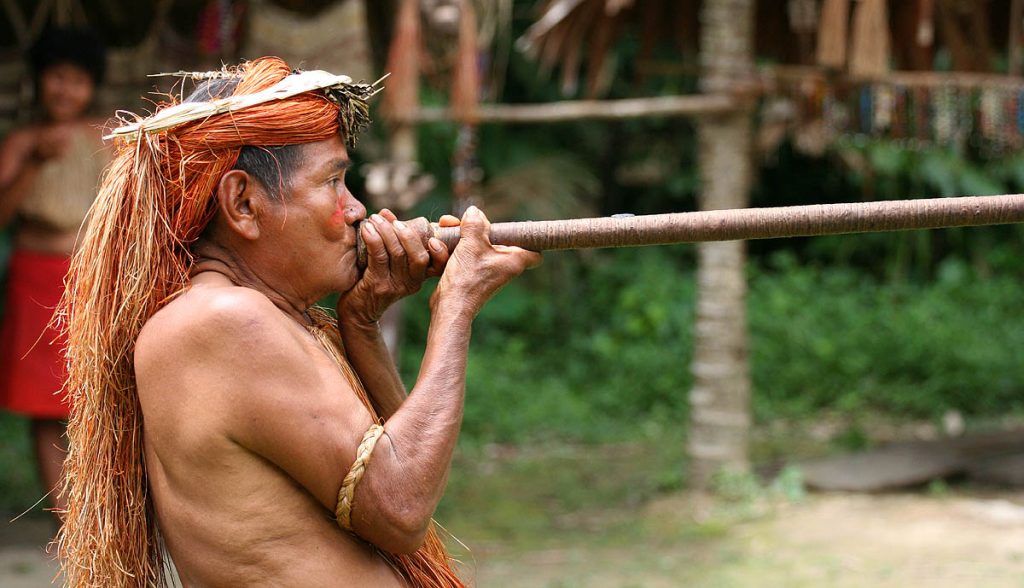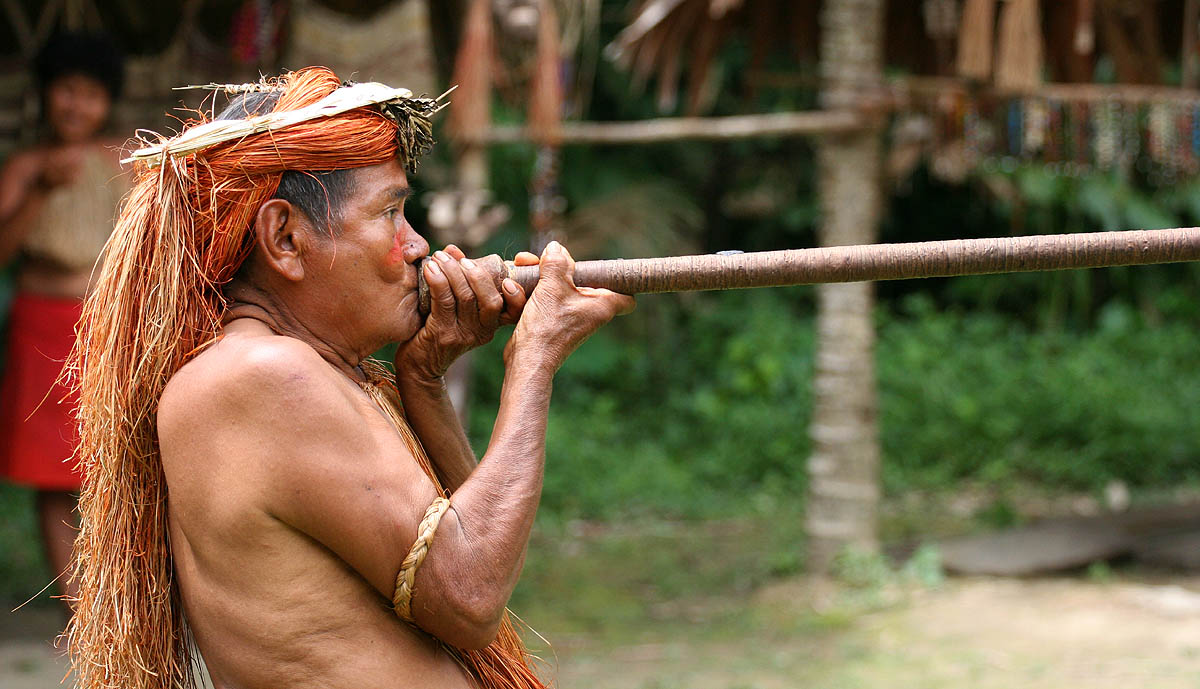 They speak their own language, the Yagua language, and their two closest language relatives, Peba and Yameo, are now extinct.
It is calculated that at least one-third of all the Yaguas are monolingual, speaking only their language. The rest also speaks Spanish. 
Their population has been diminishing, at first many years ago by the Spanish conquerors, then by the Portuguese looking for slaves (bandeirantes), and then by the rubber boom. They also contracted diseases like Sarampion, which were lethal to them, from outsiders (in 1933 one third of the Yagua population died due to a Sampion epidemic).
They live based on agriculture (mainly yuca and rice), hunting and fishing. Currently, they accept visitors into their communities where they show them their traditional dancing, songs, and blowgun skills. Visitors are always asked to join these activities, so bring your best dance mood!
A great way to support them is to buy some handicrafts that they make, so the profits stay in the community and help their development.
You can visit the Yaguas tribe as part of any of our Amazon lodge tours.
If you prefer to organize a trip by yourself to visit Boras or Yaguas communities you can go directly from the Nanay port, renting a motorboat by asking the locals there.
Cost: $ – $$
Iquitos Boulevard (Malecón)
There is a certain feeling about walking Iquitos Boulevard, looking at the Itaya river, unwinding your mind with slow steps, moving your gaze between the handicraft stands, the creative artisans and the lively tables full of people eating, drinking and talking. In front of it all the mighty contrast of the Amazon jungle widespread almost to 180 degrees.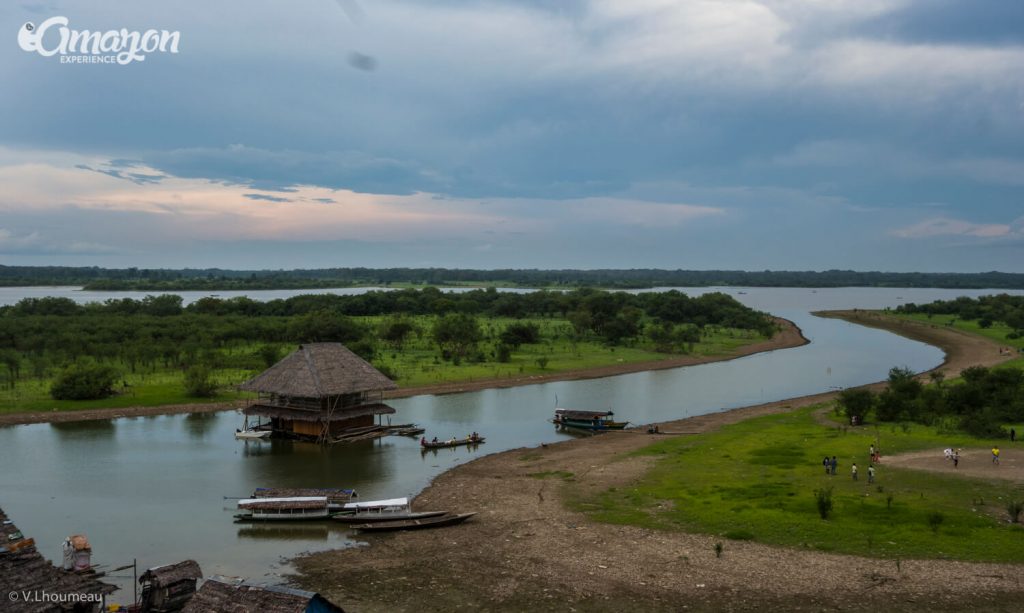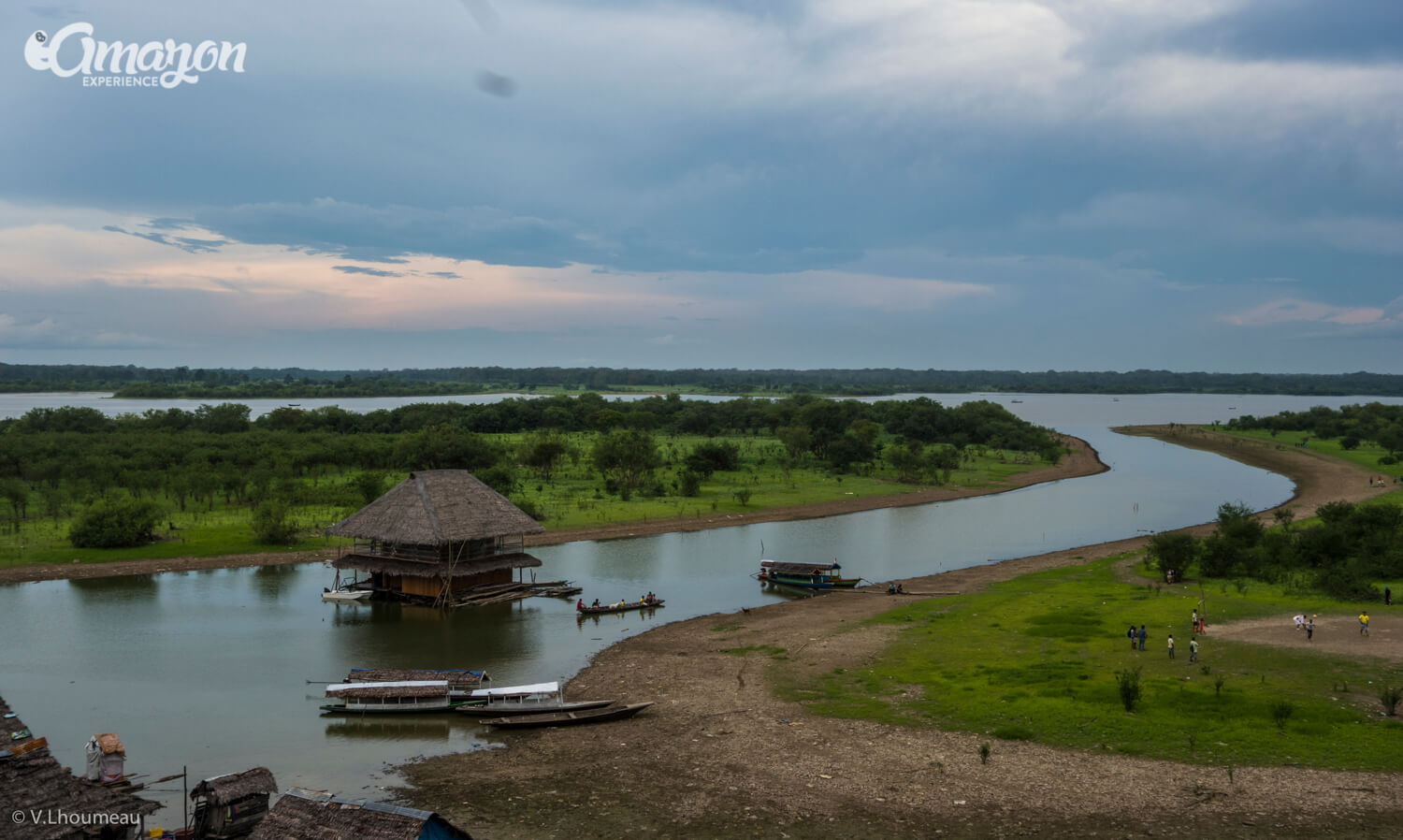 One block from Plaza de Armas (Main Square) you can reach this iconic riverside walkway where you will find many restaurants, bars, and bistros. 
There are many small restaurants and little cafes with riverfront terraces or balconies where you can enjoy the food and the view. 
This place is usually very quiet in the mornings and early afternoon and starts to get lively around 6:00 or 7:00 PM with many people chilling and walking, different shows in the walkway, the playgrounds full of children and the sounds of the jungle mixed with music, cheering and laughter.
For sunrise lovers, the trick is to get up very early (around 5:00 AM) and look for the sun coming out of the river in the Malecón.
Sunsets are also great for views and photographs, the sun casts some colorful shadows over the river clouds.
If you go on a Saturday be sure to stay there until around 7:00 – 8:00 PM where the local Capoeira team gathers to practice, along with live music, giving everybody a free acrobatic display of this martial art.
Cost: Free
Stay in an Amazon lodge near Iquitos
When visiting Iquitos you have the chance to experience sleeping in the Amazon rainforest either by camping (Pacaya Samiria being the most popular option) or by staying in an Amazon lodge.
Sleeping in the jungle it's an experience on its own, with all the wild sounds surrounding you and the sense of disconnection from the outer world.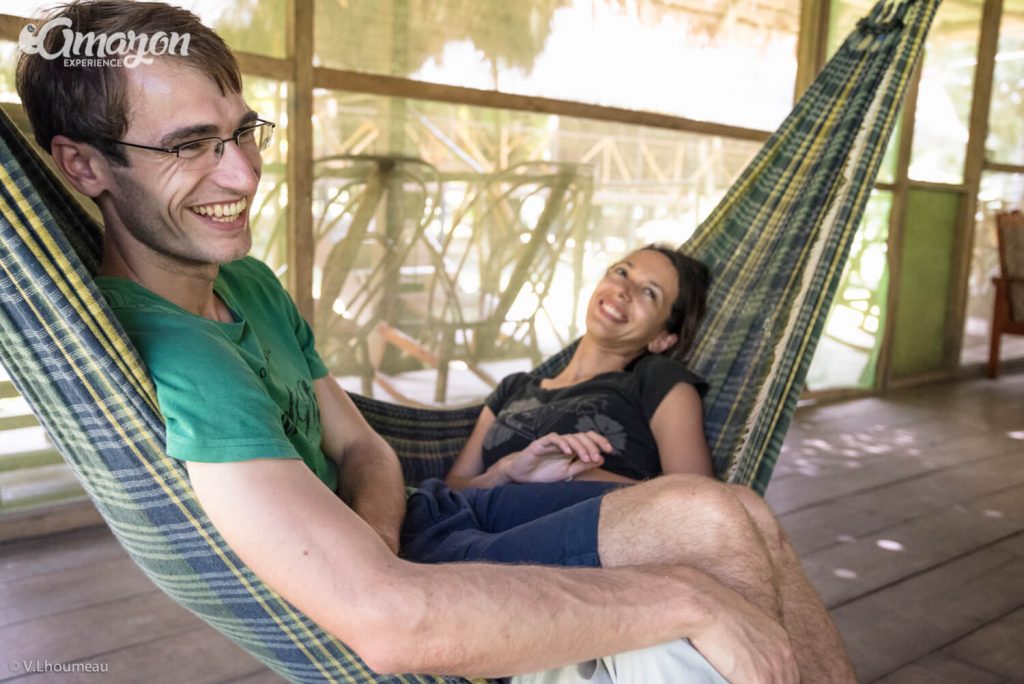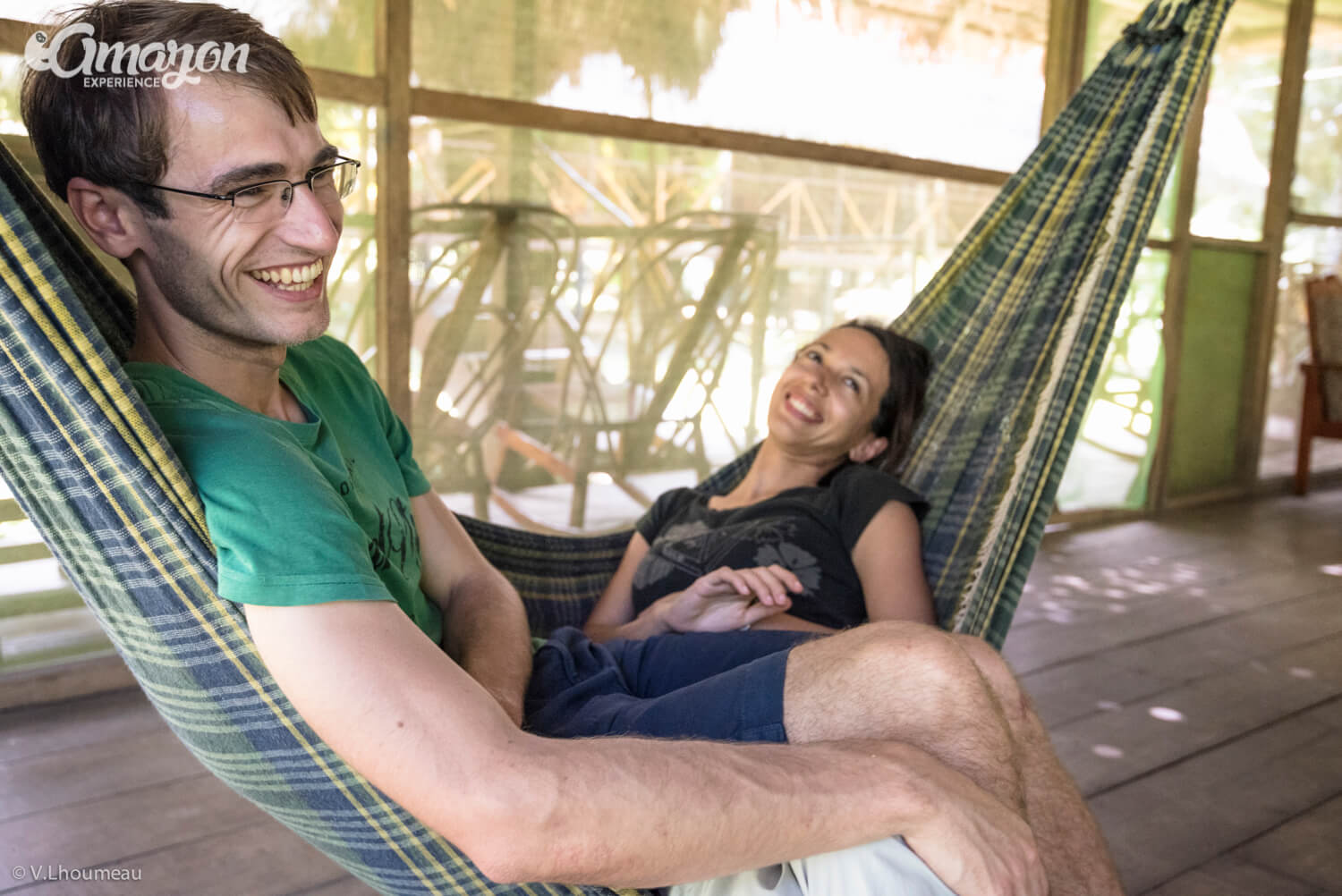 When you stay in a lodge near Iquitos it is usually as part of an organized Amazon river tour that includes the food, water, equipment, motorboat transport, guides, and different activities and places to visit.
If you are on a tight schedule and don't want to deal with the logistics of finding where to stay in Iquitos we can pick you up from your morning flight at the airport and start your tour directly, being in our way to the Amazon lodge before lunch.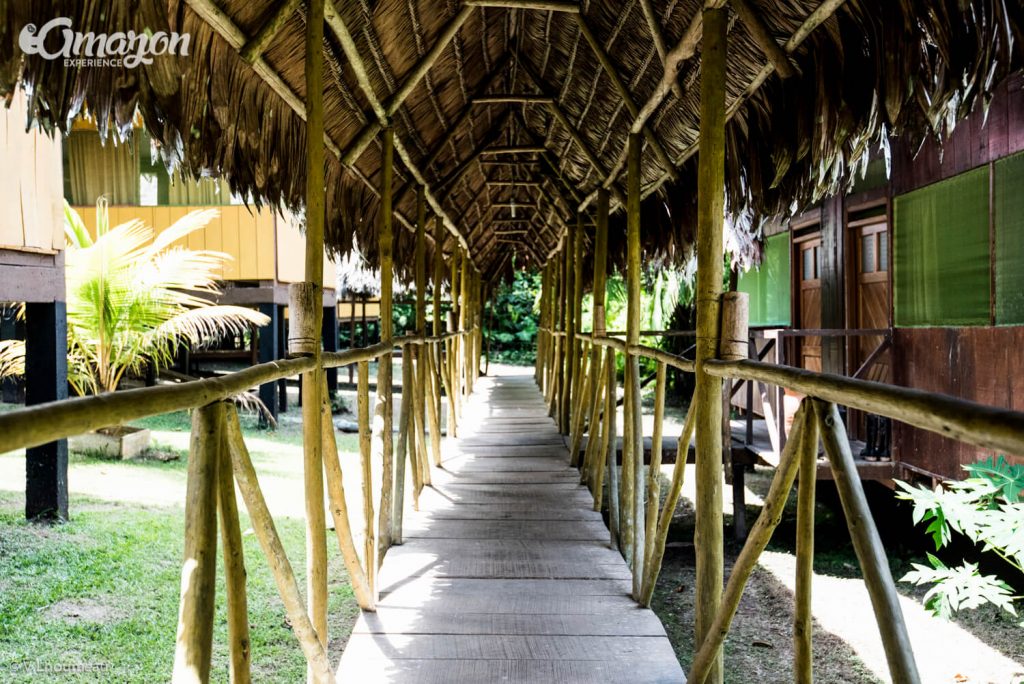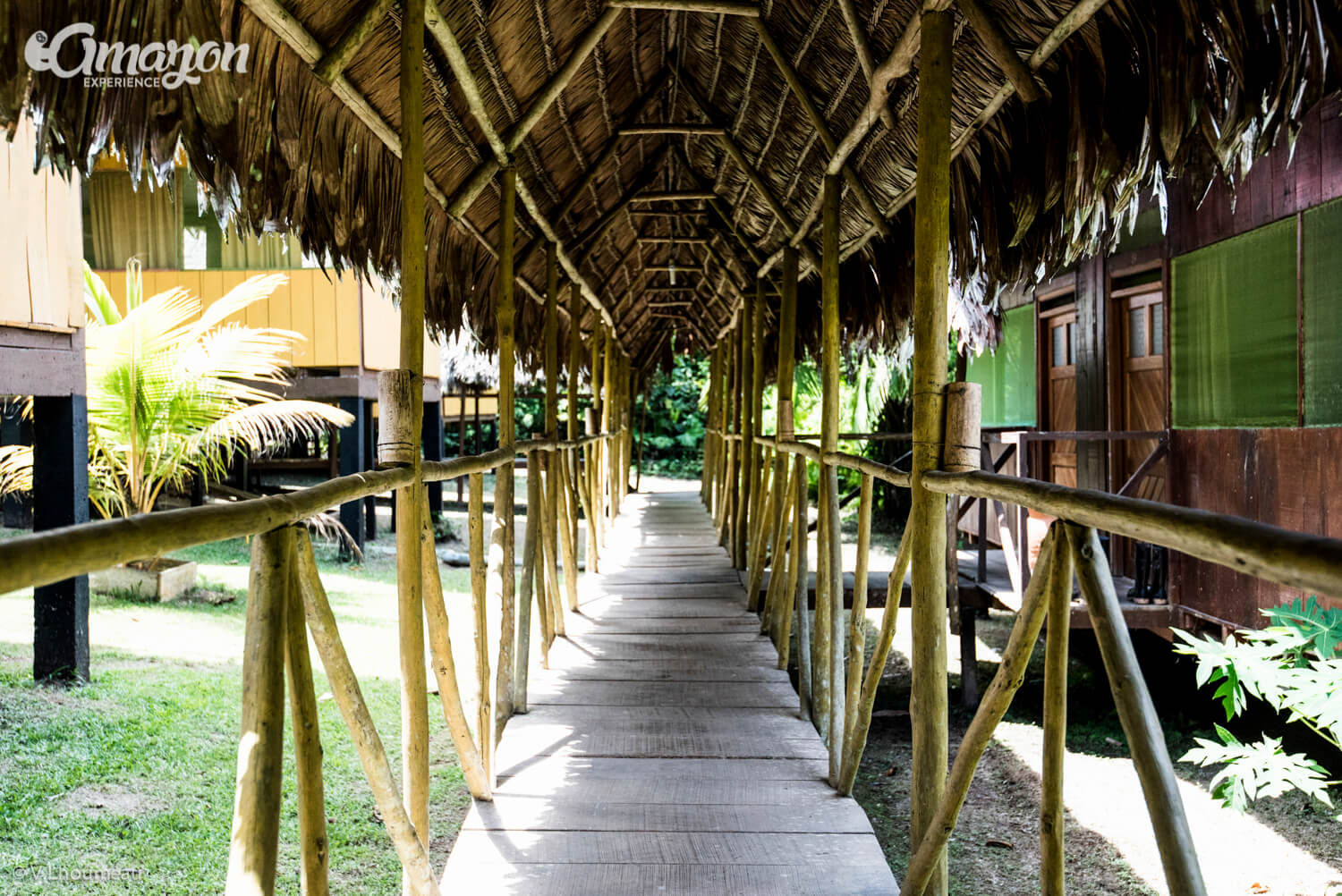 The most common options for Iquitos Amazon lodge tours range from 2 days to 5 days.
Cost: $$
Camping in Pacaya Samiria National Reserve
If camping in the Amazon rainforest is one of your lifetime dreams then look no further. Near Iquitos, you can explore the Amazon jungle (primary jungle) inside a National Reserve the size of Slovenia! (over 2 million hectares)
If you haven't heard about Pacaya Samiria National Reserve we highly encourage you to check out this article we wrote with lots of useful information about it.
You can also check this short video, made by our friend Simon Pittet, of his experience in Pacaya Samiria. We love it!
This place is full of different wildlife species representative of the Amazon rainforest like macaws, anacondas, monkeys, pink dolphins, manatees, caimans, frogs, and many others.
Pacaya Samiria is also known as "The Jungle of Mirrors" because you can see reflections of the sky and the surrounding nature in its rivers and affluents. It is even more impressive in real life than in the photographs.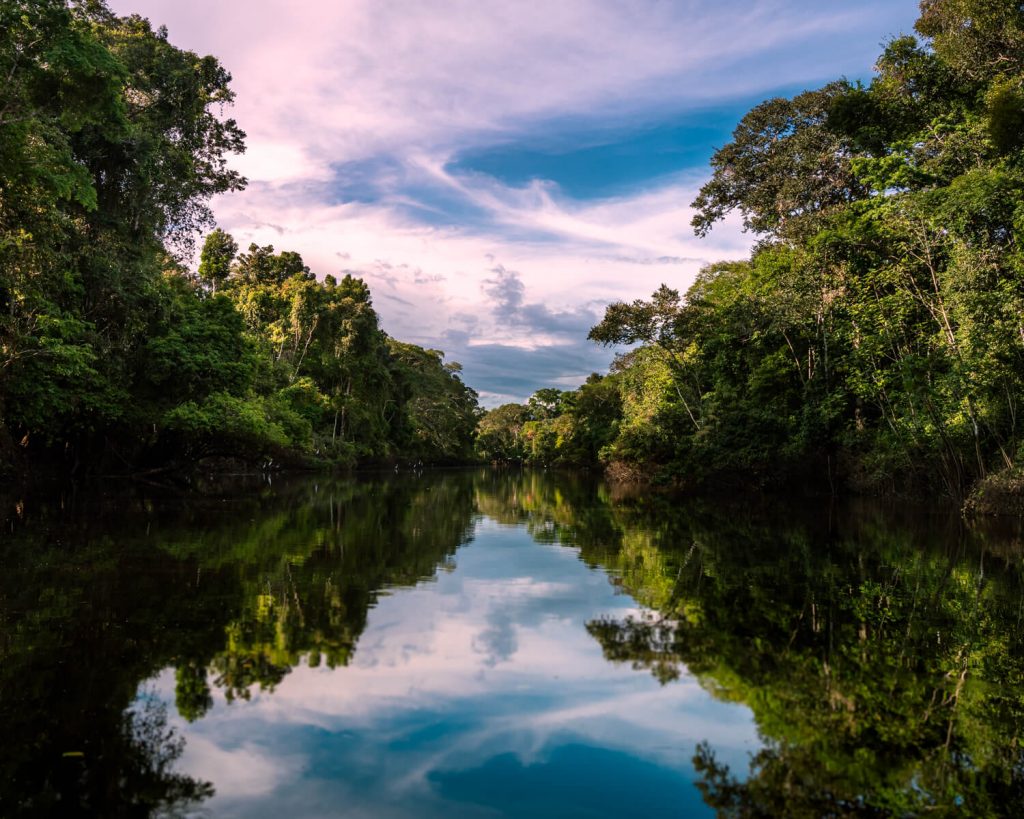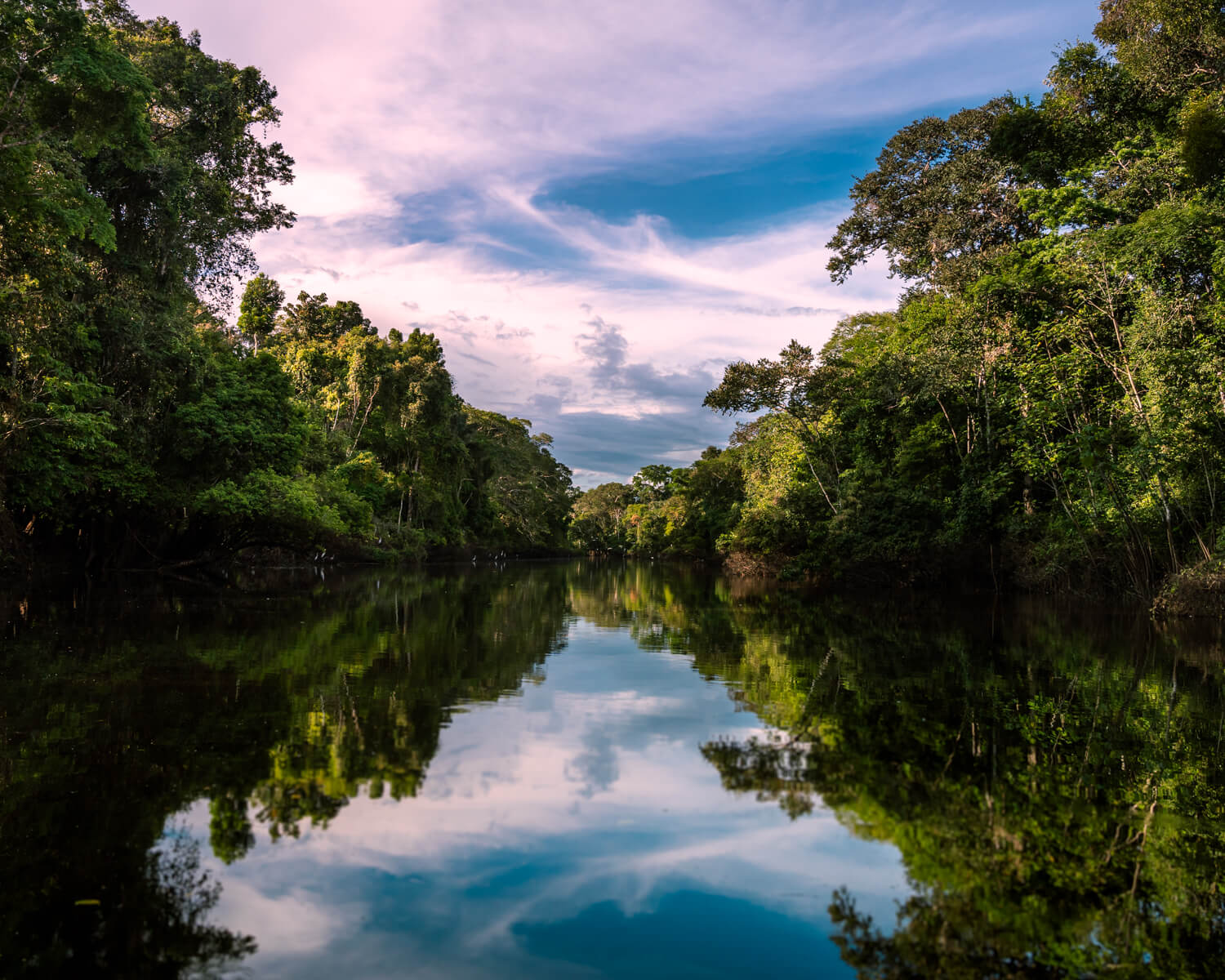 To arrive there the journey starts traveling from Iquitos to Nauta by highway (the only one around). This trip takes around 1 hour and 45 minutes.
Once in Nauta you go to the port and depart from there by motorboat downstream the Marañón river (one of the rivers that form the Amazon river). This river trip takes around 3 hours to reach the Santo Domingo checkpoint, where the SERNANP (Servicio Nacional de Áreas Naturales Protegidas por el Estado) staff will register the visitors in a logbook and give approval for the entrance.
To enter this national park you must go with a tour operator authorized by the SERNANP. It is not possible to organize a trip on your own (by renting a motorboat for example).
Here you can find a list of all the authorized tour operators for conducting eco-tourism activities in Pacaya Samiria.
Due to the logistics involved in getting there and back, we offer Pacaya Samiria tours starting from 3 days and 2 nights up to 10 days 9 nights.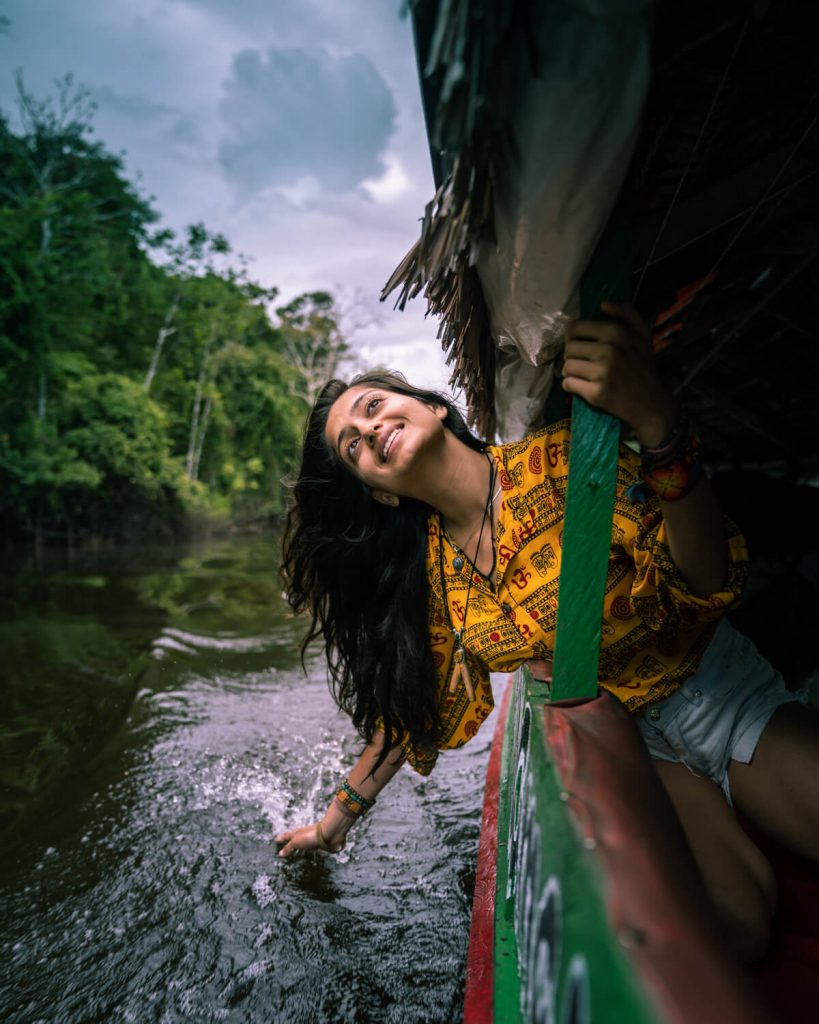 So, are you ready for some Amazon jungle camping adventure?
Cost: $$
Luxury cruise
If you want to explore the Amazon jungle in luxury then cruises might be your thing.
There are many companies, and resellers, that you can find online offering different kinds of Amazon cruises.
We don't have a cruise yet but we are convinced that with hard work and patience we will be organizing the most awesome cruise tours in the future. Stay tuned!
Cost: $$$
Visit the Manatee Rescue Center (Centro de Rescate Amazónico, CREA)
Have you seen a manatee before? They are huge!
Outside of Iquitos city, on the highway connecting Iquitos and Nauta town, you can find the Amazon Rescue Center (CREA) who focuses on recovering rescued manatees and then releasing them back into its habitat.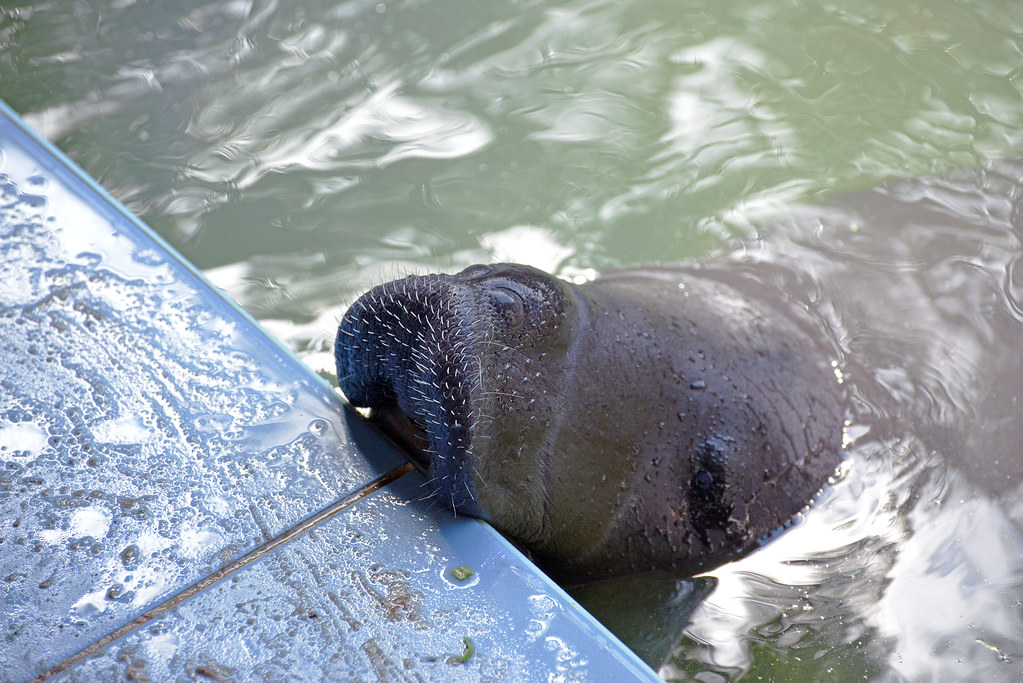 Manatees are the largest mammals in South America and its population has been declining in the last decades due to hunting (for its oil and meat) and habitat loss.
Manatees are docile, herbivorous, and feed on plant species, like the water lettuces or hyacinths you can find in Pacaya Samiria National Reserve.
Amazon manatees can eat up to 8% of their body weight during a day.
The entrance to this center is 20 soles per person, it includes a guided tour that explains about the work the center does regarding recovering and releasing manatees and other species.
This place also has an environmental education program for Iquitos kids.
You can arrive at the Amazon Rescue Center by moto-taxi, just say that you are going to "Centro de Rescate Amazónico", it's on KM 4.5 on the Iquitos – Nauta highway. It should take around 30 to 40 minutes and cost around 20 soles one way.
Cost: $
Night walk in the Amazon jungle
You never forget your first night walking in the Amazon jungle.
You walk slower than the normal day pace with all your senses tuned, looking for nocturnal animals and insects, hearing the most awesome natural symphony, while your mind is intrigued by what could be found lying ahead. Your heart races with every new discovery. You feel alive.
All in all, an experience worth to be lived by any adventurer soul.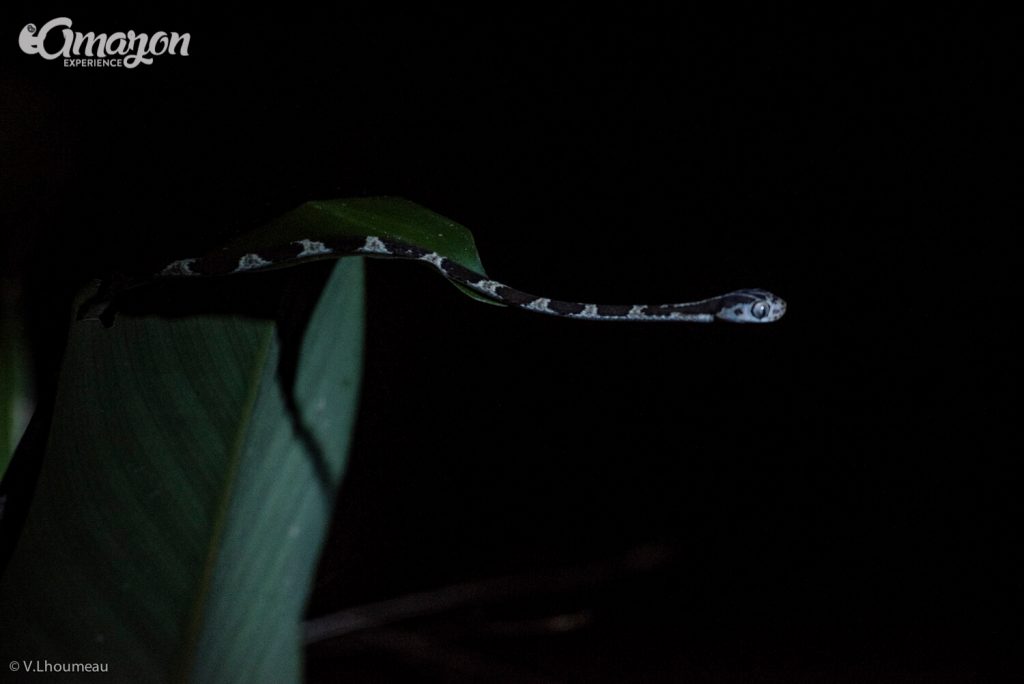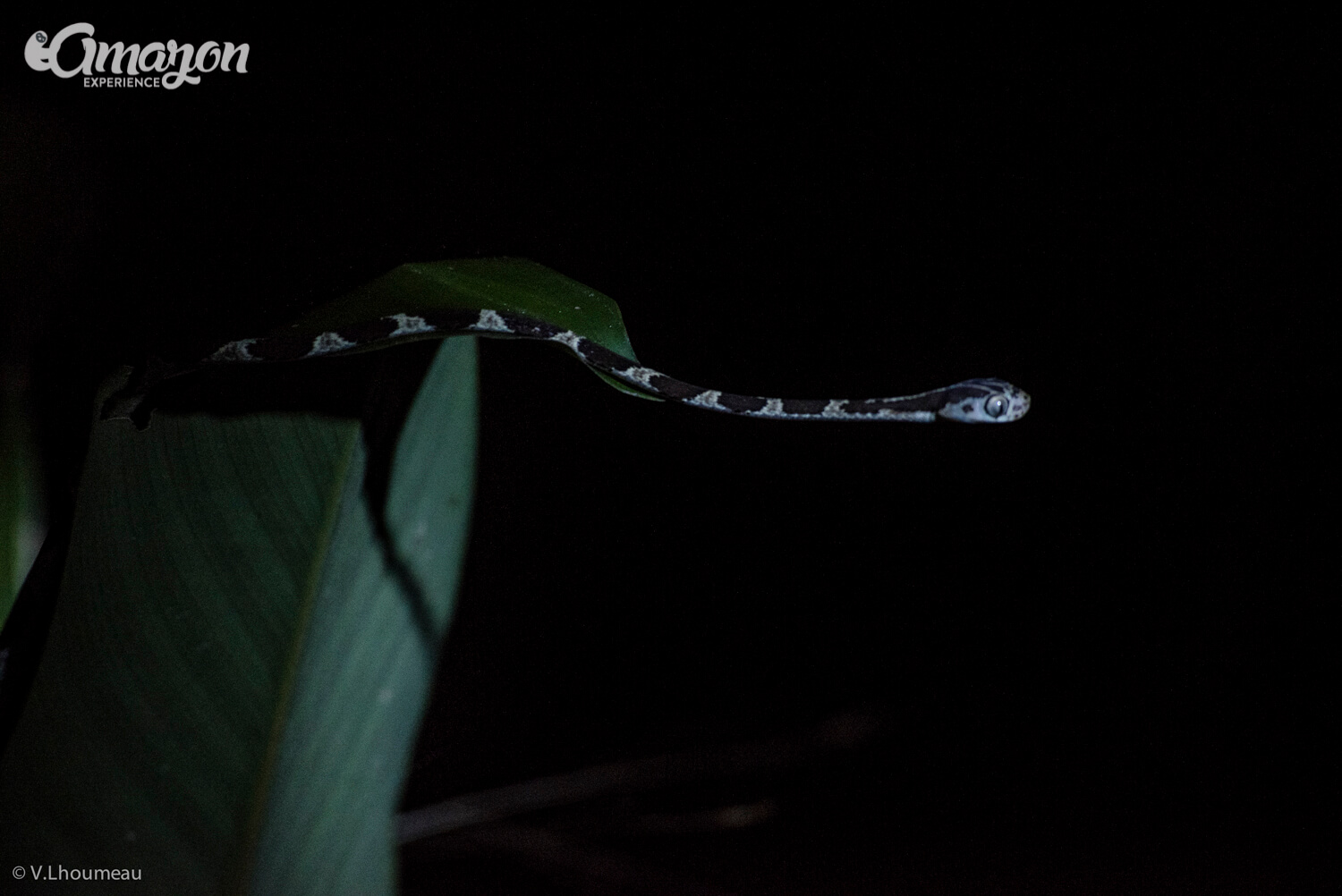 Exploring the Amazon jungle by night (and even by day) is something that could be done in a safe way guided by professionals that know how to navigate the trails, orientate themselves and also recognize the different wildlife species you might find.
All our Iquitos jungle tours (except the Full Day), include night walks into the jungle.
Oh, and always go with your rubber boots! (we provide those with every tour)
Cost: $$
Bellavista Nanay port
Foodie looking for a traditional and authentic spot to eat in Iquitos city? Bellavista Nanay is here to save the day!
Bellavista Nanay port has been serving as a local market and harbor for over 50 years to the people of Iquitos.
This port is located in the northern part of Iquitos city, where the Amazon river meets the Nanay river, and it's used by many tour companies (ourselves included) to start the Amazon river journey downstream.
Traditionally people come here to eat fresh fish (look for "patarashca", a preparation made with grilled vegetables and wrapped in leaves). We suggest you try the "picarones" (sweet potato donuts marinated with honey) and "macambo" (roasted cacao seeds). You can also find plenty of different (and rare) fruits to choose from. Delicious!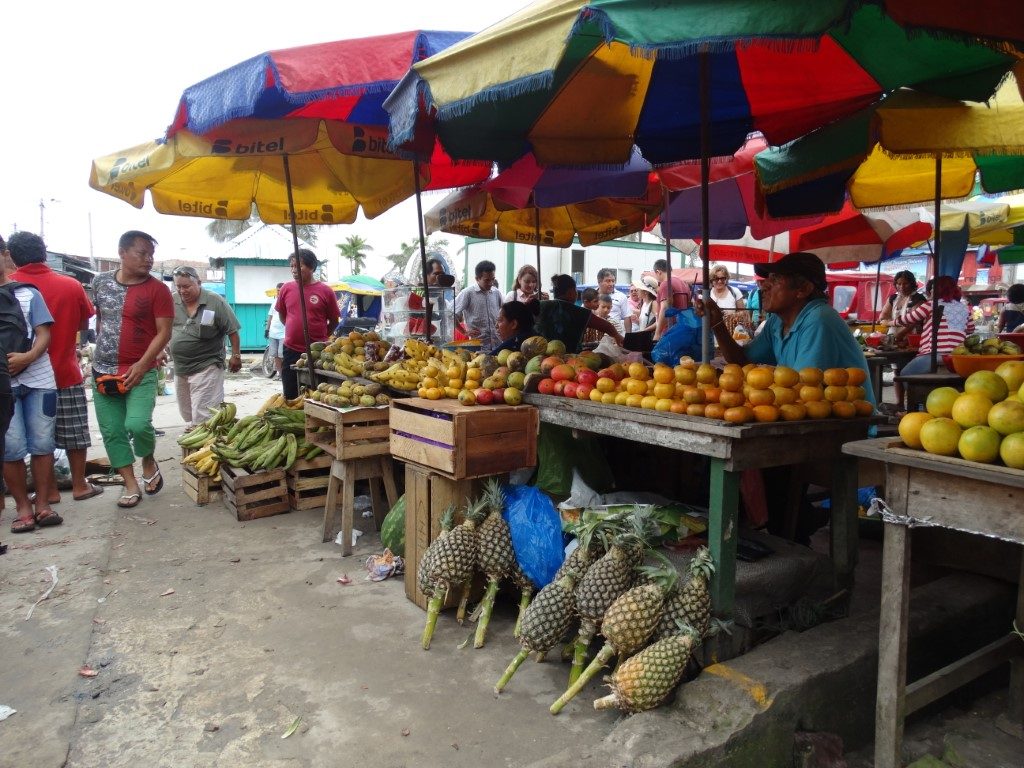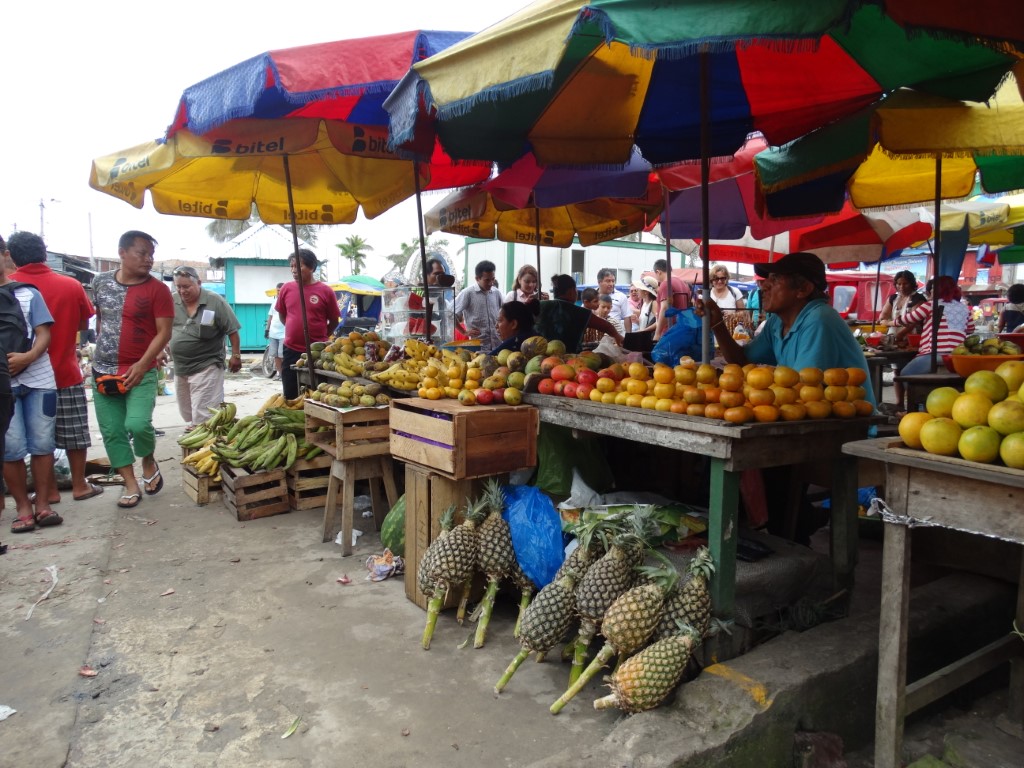 It is sad to see that here you can also find some banned foods (like turtle eggs, turtle soup or even cooked caimans). We encourage you to not be part of this and avoid buying anything related to turtles or caimans.
You can go there by moto-taxi (around 5 soles), by bus (1 sol), or as part of an organized tour when departing to Amazon lodges located in the Amazon river.
Cost: Free (if you walk) – $
Bus ride
If you are looking for a cheap and authentic way to tour the city then this is for you!
Just hop into any of the colorful half-wooden buses that transit different parts of Iquitos, sit down and enjoy the bumpy ride.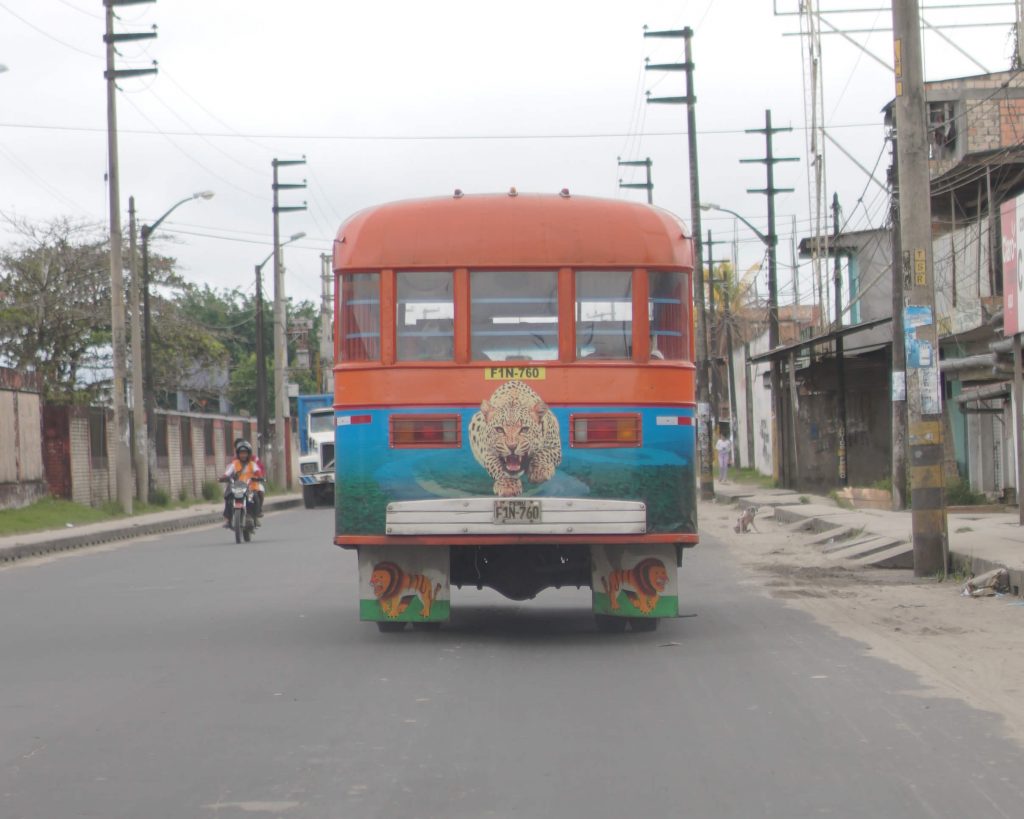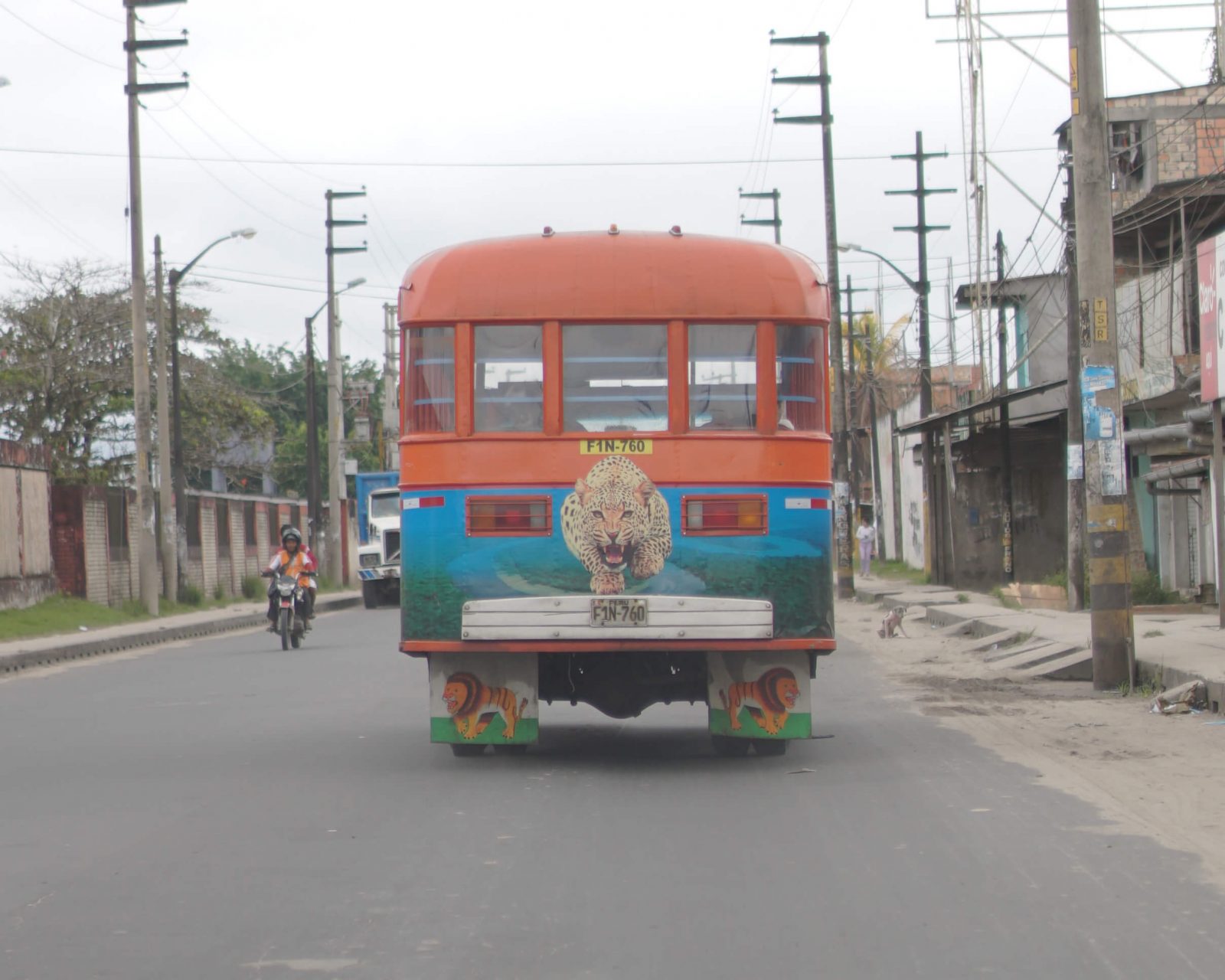 These buses are locally built, only the engine, the wheels system, and a few other parts are imported. The rest is assembled in Iquitos city.
For a few soles, you can spend some time just strolling by, looking outside the glassless window and enjoying the city vibe.
Cost: $
Iquitos Museums
If you like museums and learning about the history of the places you visit then these suggestions are for you.
In Iquitos, you can find a few unique museums that are definitely worth a visit.
The Boat Museum is housed inside the Ayapua, a german steamship built in 1906 that was a crucial part of the Iquitos rubber boom. This three-deck ship contains lots of information and pictures of those times, helping visitors understand how Iquitos came to be and also showing them the dark side of it, with thousands of indigenous people exploited, enslaved and ultimately killed.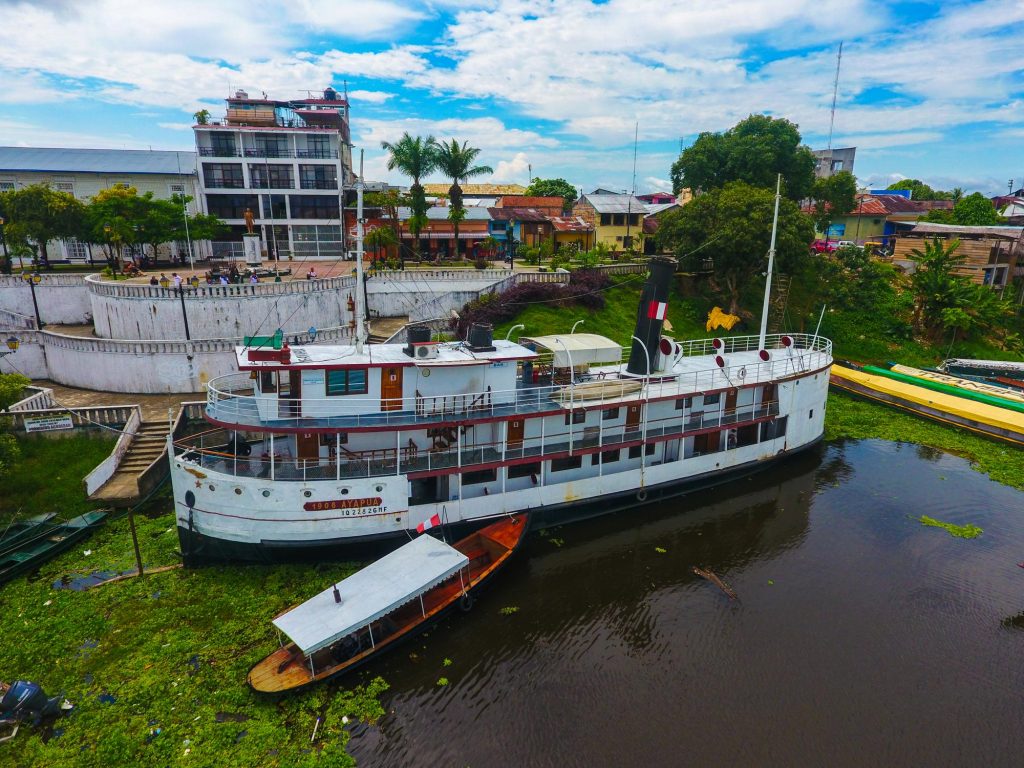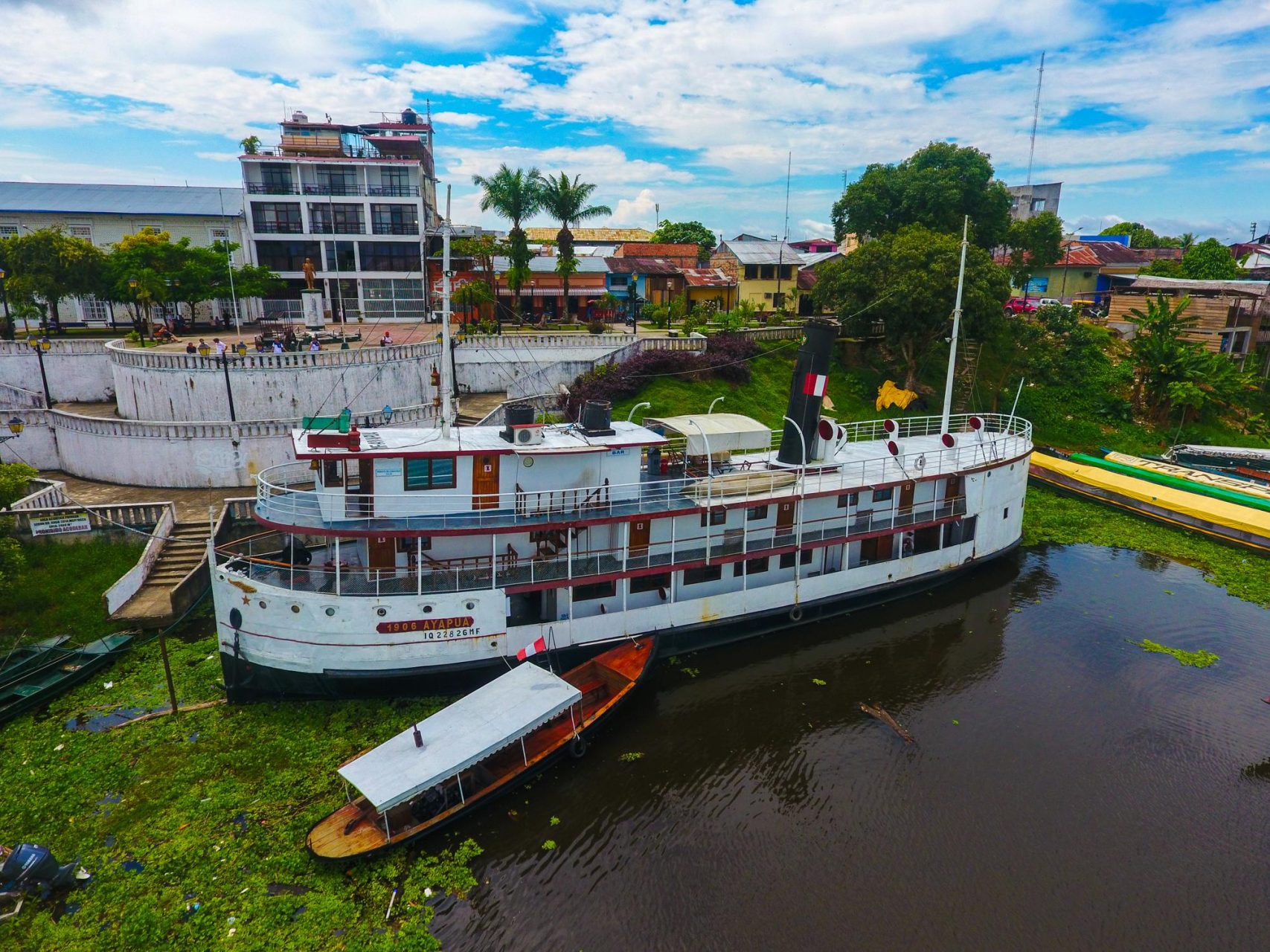 This Boat Museum also displays the movie Fitzcarraldo on a loop, so if you haven't seen this Werner Herzog's classic movie this is literally the perfect place.
The Museum of Indigenous Amazon Cultures is located very close to the Plaza de Armas (Main Square) in Malecon Tarapaca 332 (see the custom Google Maps for reference) and it displays many ethnographic samples of around 40 different indigenous tribes from the Amazon. 
Here you can see traditional clothing, weapons, ceremonial objects, tools, and even musical instruments. You can also learn about the beliefs and cosmovision of many Amazon indigenous tribes.
Open daily from 10:00 AM to 7:00 PM. The cost of the entrance is 15 soles.
Cost: $
Saint John Market (Mercado de San Juan)
One of the not-so-known Iquitos attractions is the San Juan handicrafts market.
Located half a block away from the "Plaza José Abelardo Quiñones" (locally known as Plaza San Juan or Plaza Roja, "Red Square") you can find this artisanal market that is a hidden gem if you are looking for authentic souvenirs, gifts or things to buy in Iquitos.
Here you can find many different kinds of handicrafts like wooden bowls and plates, traditional decoration, clothing and tapestry, original paintings, hammocks, etc.
Also, if you take the left lane after entering and walk straight you can find two original Shipibo tribe stands that sell some great Shipibo artisanal tapestries and clothing. Who said you cannot be fashionable in the Amazon jungle?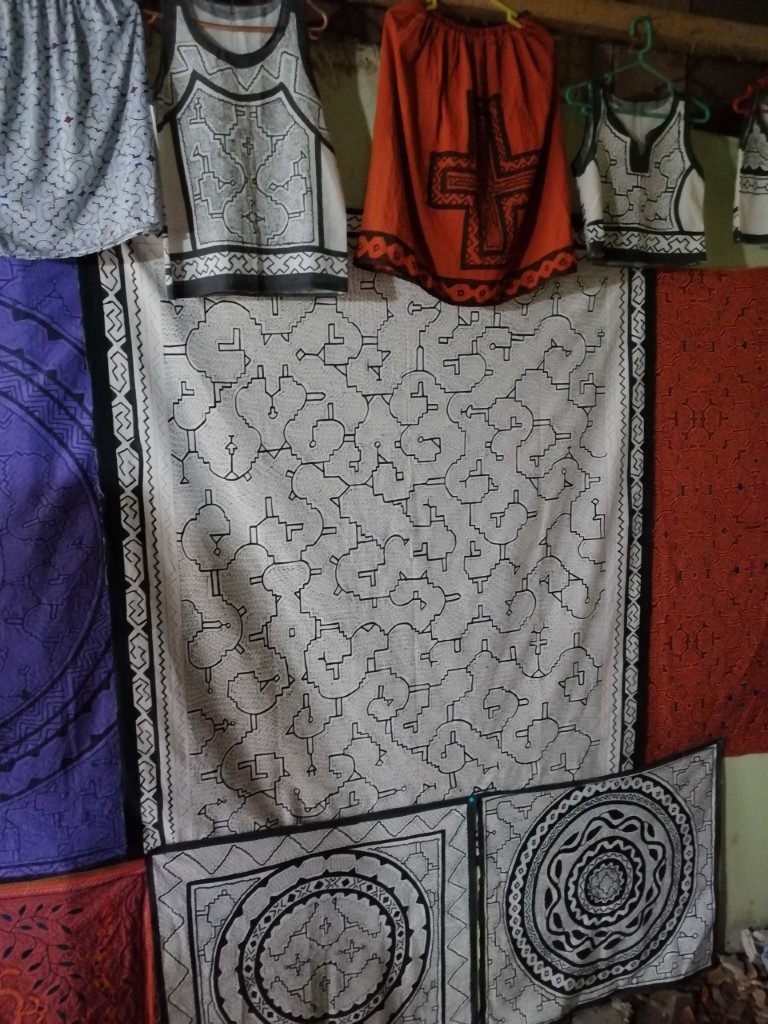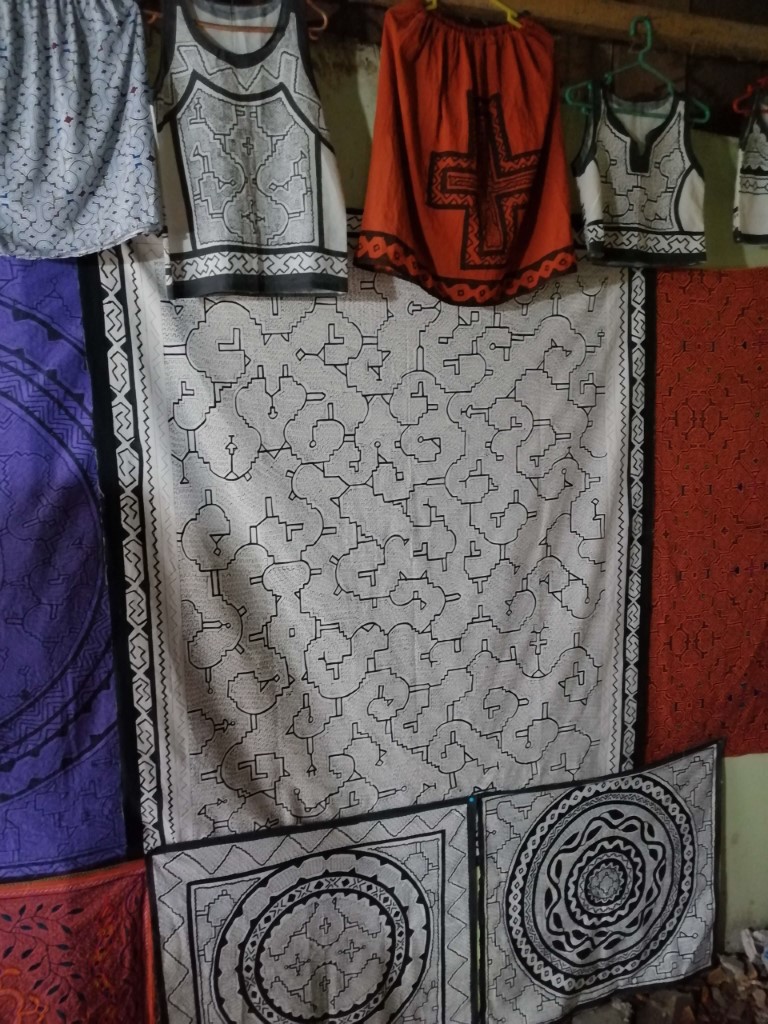 You can go to this market from the Iquitos center by moto-taxi. It should cost you around 5 soles one way.
Cost: Free entrance
Amazon jungle festivals and events in Iquitos
Speaking of the "Red Square" (Plaza Roja or Plaza José Abelardo Quiñones), this is the main spot where Saint John (San Juan) is celebrated every year.
If you have never experienced Saint John in the Amazon region you are up for a surprise!
Celebrated at the end of June (June 24th) this festival is one of the biggest in the Amazon. Lots of people celebrating, singing, dancing and, of course, eating the traditional "Juane" (see the Traditional Amazon food section below for reference).
This festival is massive and attracts lots of people. You can see big groups of people, families and their children, and also some visitors in the streets near and in the Plaza Roja in a festive mood.
This Amazon festival is also famous for its traditional competition "Salto al shunto" (Jumping the shunto or fire). Images speak more than words:
If this isn't enough to get your festive fluids going then you will be happy to know that after Saint John ends, the day after immediately starts the celebration of Saint Paul, from June 25th until June 29th.
Another important date to know about traditional celebrations is the Iquitos carnival, around February 13th.
Cost: Free
Navigate the Amazon River and its affluents
This list wouldn't be complete if we didn't suggest navigating the Amazon river, one of the Earth's seven natural wonders and the largest river on the planet.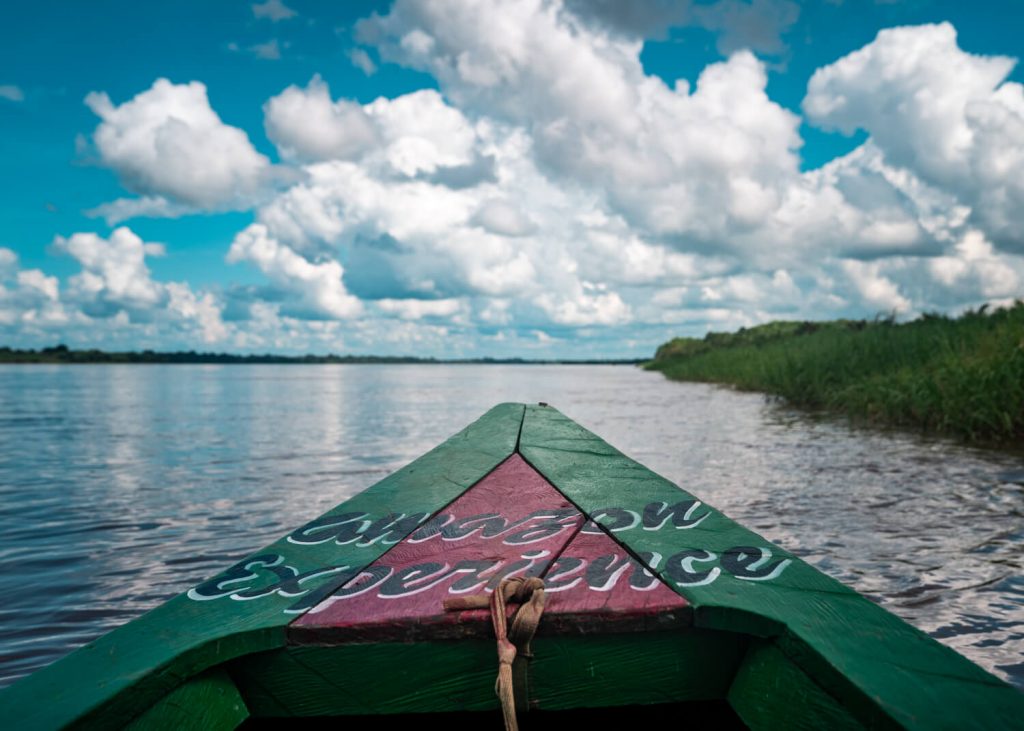 There have been numerous attempts to measure the length of the Amazon river, being the most current (and accepted) one that this mighty is about 6992 km (4345 miles) long. 
Impressive, eh?
Once you are in Iquitos there are a few ways you can explore the Amazon river by motorboat.
If you are looking for a cheap option you can go to the Nanay port and rent a motorboat so you can see the "Meeting of the waters", where the Nanay river meets the Amazon river, and navigate in the surroundings of the port looking for pink dolphins.
The most complete option will be exploring it as part of an organized Iquitos Amazon tour. This way you will be sure to cover different places to visit, including the famous Yanayacu basin, Monkey Island, visiting an indigenous tribe, along with hiking in the jungle by day and night.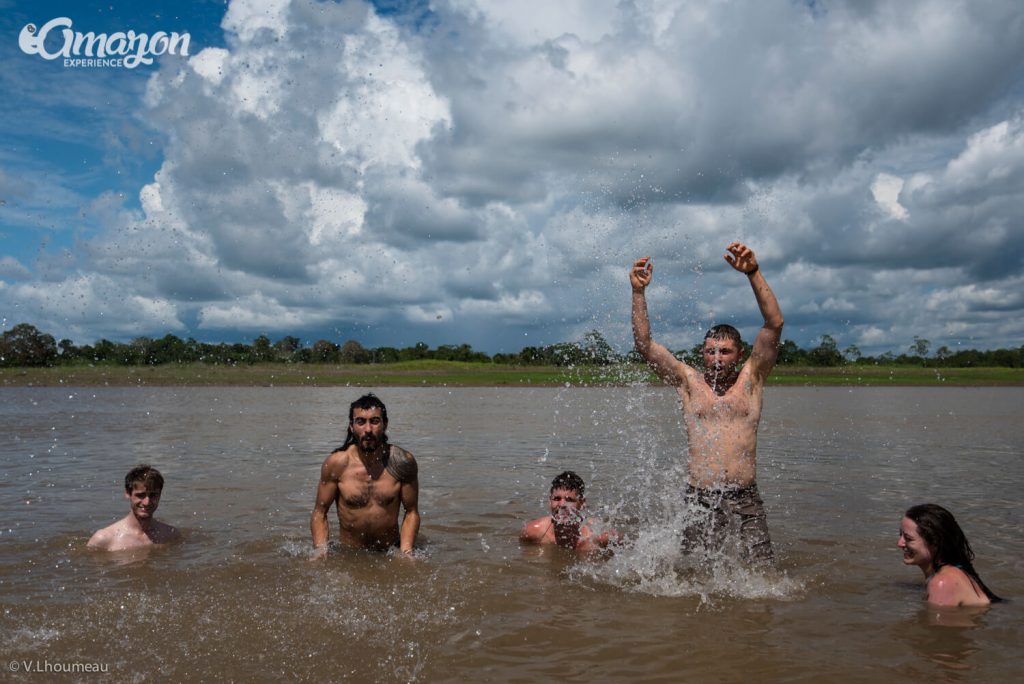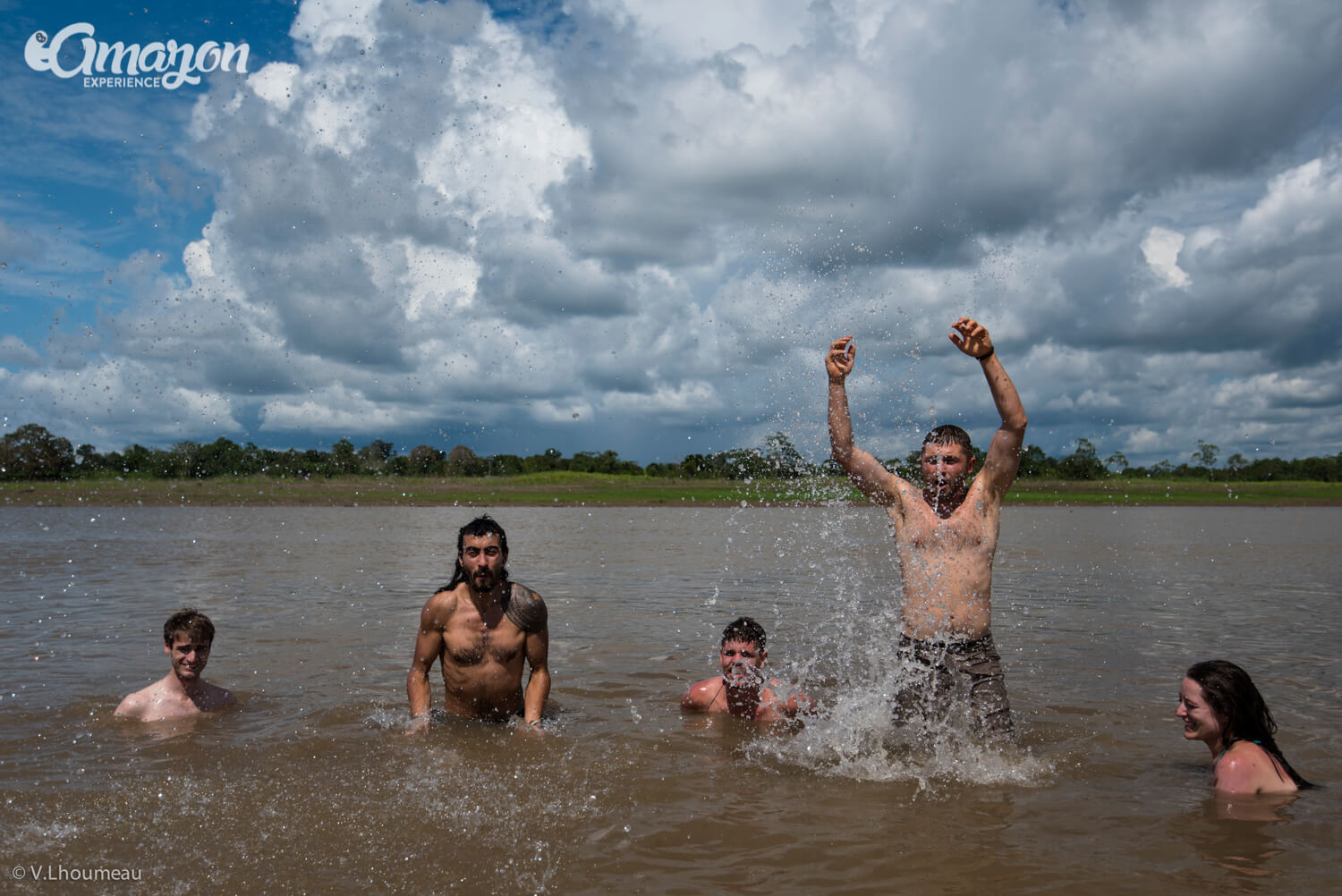 The more time you spend navigating the Amazon river, the more chances you have to snap that great picture of a pink dolphin jumping. If you are not into photography it doesn't matter, just watching them is pretty amazing too.
Cost: $-$$
Taste some Amazon traditional food
The Amazon region is famous for its landscapes, its wildlife and also for its delicious food!
When visiting Iquitos the most typical food you might find is the mighty "Juane" (kinda like Juan, Spanish for John).
It is widely consumed year-round but especially on June 24th celebrating Saint John the Baptist (San Juan).
Juanes are usually made on the basis of rice, chicken (or another kind of meat), olives, hard-boiled egg, and some spices. Then it is wrapped with bijao (macaw-flower) leaves and then put to boil. There is also the variant "Juane de huevo" (egg Juane) that is without chicken or any meat, just with eggs, that we recommend to vegetarians.
For people that eat fish, in the Amazon you can find great variety, including gamitana, sabalo, tucunare, palometa, boquichico, and even piranhas. If you are looking for the preparation of a fish grilled in vegetables and wrapped in leaves ask for "patarashca".
For vegetarians and vegans (or anyone that loves fruits), there are plenty of new fruits to try including camu camu (very high on C vitamin and antioxidants), aguaje (also found in ice creams!), zapote, maracuya, uvilla, tumbo, mango, carambola, guayabana, copoasu, macambo, guaba and, of course, many different kinds of bananas (from very small and sweet ones to very big, green ones, that are boiled or fried as a side dish).
And for people that love spicy foods, we have two chili suggestions you can't miss in Iquitos: Cocona chili (Ají de cocona) and biting one small Charapita chili (Ají charapita). You won't be disappointed.
Cost: $
Where to eat in Iquitos?
All that food talk made us feel a little… hungry!
So, you just arrived in Iquitos, went to your accommodation, dropped the bags, took a quick shower (highly encouraged after arriving) and now you are ready to hit the streets, but… where do you go to eat in Iquitos?
We have compiled a list of suggested restaurants in Iquitos. We have tried every restaurant listed at least once and we made sure every one of them has vegetarian options. We don't have any commercial agreement with them and you are free to eat wherever you want (just avoid ceviche served on street carts, for your own good).
Our list of places to eat in Iquitos is almost ready. Stay tuned!
Where to drink and go out in Iquitos?
Repeat after me: "Una cerveza por favor"
You can order a beer or a cocktail in some of the previously mentioned Iquitos restaurants but we thought this list of suggestions about what to do in Iquitos wouldn't be complete if we didn't include a proper "Iquitos nightlife guide".
Searching on Google for "Iquitos nightlife" we only found a couple of outdated articles, so we decided to write one on our own.
Our list of places to party and drink in Iquitos is almost ready. Stay tuned!
Bonus: Just chill
We know this might not be the most popular option for those on a tight schedule visiting Iquitos and the Amazon but we think it would help those trying to dig deeper into the cultural side of Iquitos and its inhabitants.
If you can afford to have some days just slowly wandering the streets, sitting on public benches or, trying to learn some Spanish while talking with local sellers we think your experience in Iquitos would be more enjoyable and rounded.
You can take a notebook and just write, draw or paint as a way to unwind while looking at the river from whatever sitting spot you have found. 
Top spots for people watching are the Boulevard in the Malecón and Plaza de Armas (Main Square).
Take it slow. 
Enjoy the humid air. 
Breathe.
Are you ready for your adventure in Iquitos?
At Amazon Experience we want you to discover and enjoy the beauty of Iquitos and the Amazon jungle.
This post about what to do in Iquitos was put together with much love, so you can have an idea of what to expect when arriving at Iquitos and choose from the different activities presented the ones that best fit your personal taste and budget.
If you want to explore the Amazon jungle we will be happy to share that journey with you!
You can check all our Iquitos tours here and if you want to contact us you can reach us here.
🌴
Disclaimer: If you find any piece of information to be inaccurate please get in contact with us so we can fix it. Any feedback is welcome.
🌎